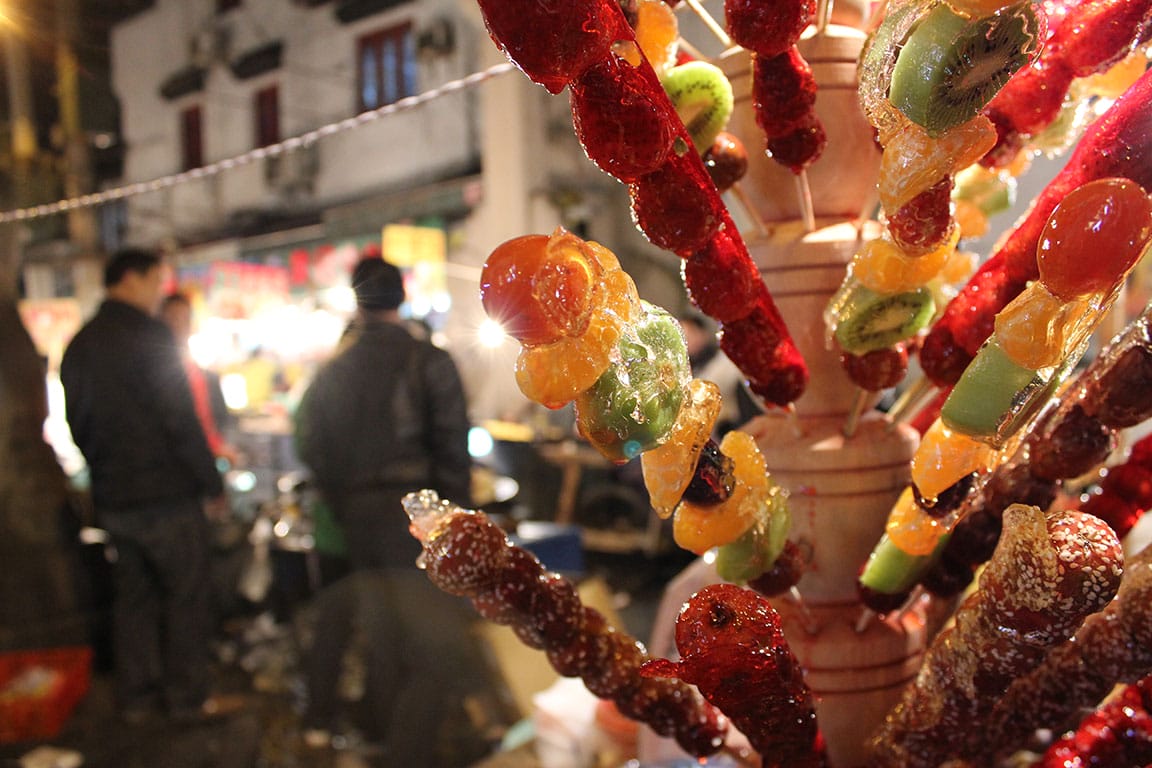 Quick bite: On this food tour in Shanghai, we'll explore the best local and regional cuisines the city has to offer once the sun goes down.
As the financial capital of China, booming Shanghai attracts millions of migrants in search of a better life – and who bring their local culinary traditions and ingredients with them. These days, one doesn't have to leave Shanghai to get a taste of the rest of China. As the sun sets, we'll explore the best local and regional cuisines the city has to offer, paired with local beers, spirits (or soft drinks) in a centrally-located, authentic working-class neighborhood, one of the few in Shanghai to escape the wrecking ball.
By the end of this evening tour, we will have gotten a taste of how different regional Chinese foods can be and how migrant communities have helped shape modern Shanghai.
While visiting a selection of mom-and-pop restaurants, vendors and hidden backstreet gems, you'll sample authentic dishes from China's far-flung provinces – all of which adds up one delicious Shanghai supper. Taste local dishes from the Shanghai Jiangnan area, as well as southern China and Sichuan. By the end of this evening food tour, we will have gotten a taste of how different regional Chinese foods can be.
This food tour in Shanghai was developed by Culinary Backstreets and our partner in China, UnTour.
Fee includes everything consumed on the walk. Some special features:
| | | | |
| --- | --- | --- | --- |
| | Vegetarian friendly | | Terrain fairly flat/ Stroller – friendly |
| | Samples alcohol | | Cannot accommodate a gluten-free diet |
| | Samples shellfish | | Vegan substitutions available at only some stops |
FAQ
How are you dealing with COVID-19 risk on your walks?

We have reinforced our commitment to safety with new guidelines to assure maximum safety of our guests on our walks in terms of social distancing and hygiene while maintaining the quality of the experience. Guests and guide are asked to wear masks on all tours during walks between restaurants. Guests must show their green QR health codes at the start of the tour. All of our restaurants are approved to be open by the Shanghai government, meaning that they are up to code with temperature checking and hand sanitizer upon entrance as well as green QR codes for all of their staff members. Guides will also be carrying extra masks, hand sanitizer, and wet wipes on our tours. On public tours, we ensure that all guests have adequate space from other diners and guests.

How long are the Shanghai culinary tours?

Culinary tours last approximately 3 hours, with minimal walking between sampling spots.

How many people are generally on your culinary tours?

Our maximum capacity is 8-10 people for most of our walks. If your group is larger, send us an email at walks@culinarybackstreets.com and we'll work to accommodate your whole party.

What types of places do you visit?

From jam-packed hole-in-the-wall noodle joints to queue-worthy street stalls, we lead you through a culinary world that is nearly impossible to navigate without a Mandarin speaking guide at your side. Your bilingual, native-English speaking guide is on hand to help translate, advise and answer any questions you have about life in China – and they'll also fill you in on Chinese food traditions, local history and make recommendations for your time in Shanghai.

Is the food in China safe?

We only work with trusted vendors whom we've been frequenting for years. These stops are our absolute favorite places to eat – the same places we take our family and friends.

Is the Street Night Markets walk suitable for vegetarians?

Yes, although there will be a couple of stops without a vegetarian option, you will definitely leave full.

Vegans

will have a very limited selection, but we can try to make substitutions where possible.

What if I have allergies?

This tour serves shellfish at several stops. We are able to substitute the dishes out for you, but those with extreme allergies should reconsider joining, as we will not substitute the stop entirely. Nut allergies have not been a problem in the past, however we cannot guarantee that the utensils and other cooking tools have not touched any of the food tour ingredients. Please bring your epi pen or other meds to the tour if you choose to participate.

Please also note that on most tours we make a stop to a wet market that showcases live and butchered animals in various states of food preparation.

Are your walks gluten-free?

We are not able to make substitutions for those with celiacs disease as soy sauce is very prevalent in our tour stops.

What languages are available for the tours?

All of our public weekly tours are held in English. If you have a special request for a private tour, please send us a note to walks@culinarybackstreets.com and we will do our best to accommodate.

What type of payment do you accept?

Once you have selected an available walk route and date, you will be directed to pay the fee or deposit for the walk. If you are registering for a walk that requires approval, your reservation request will need to be approved by an administrator before it is finalized and your card will not be charged until the walk is approved. Our credit card processor, Stripe, is certified to PCI Service Provider Level 1, the most stringent level of certification. None of your sensitive data ever hits Culinary Backstreets servers. It is all captured, processed, and housed on Stripes servers. Our booking system, Bookeo, also meets both Daily PCI Security Scanning and Security Verified Requirements.