Lisbon's Post-Colonial Feast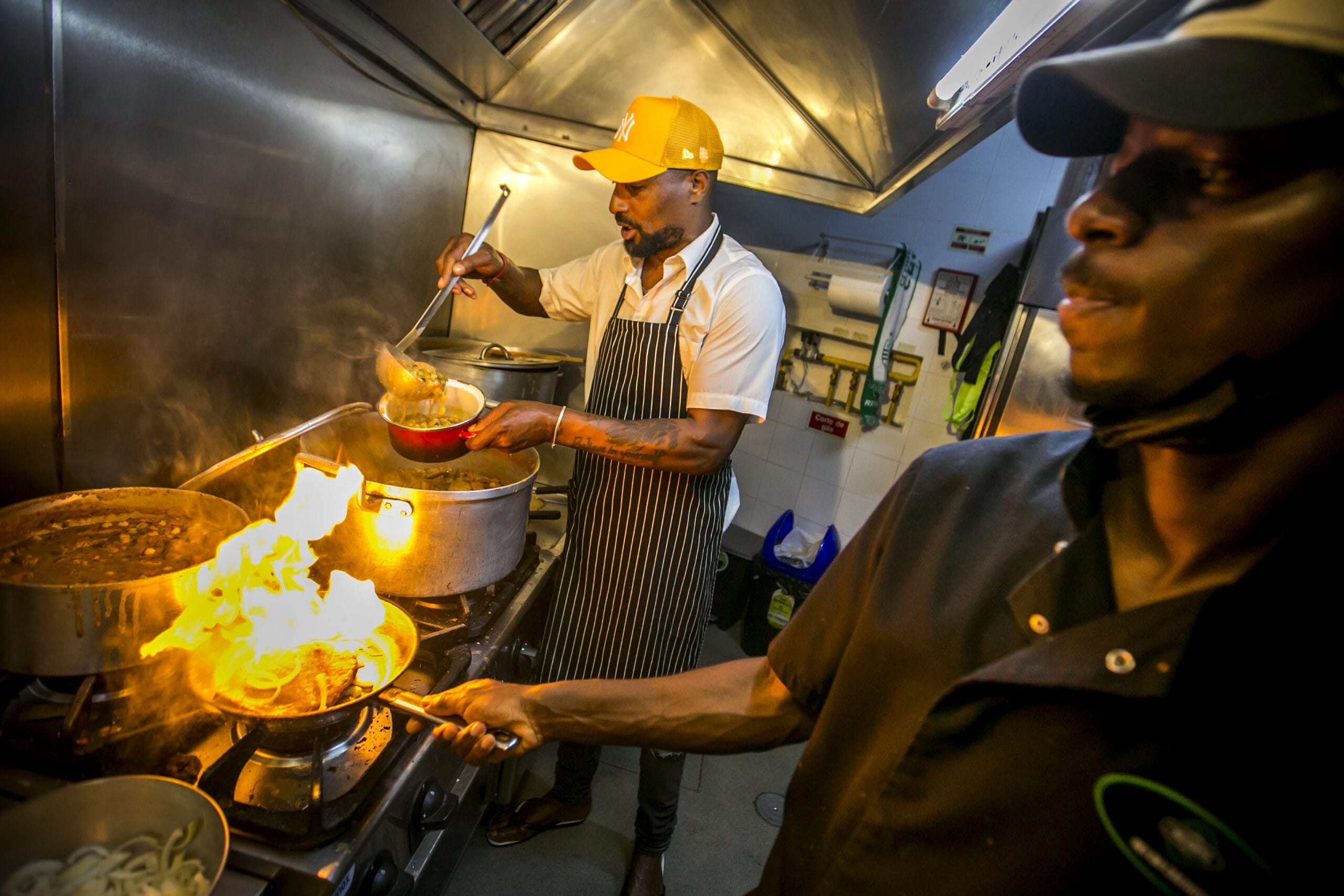 Quick Bite: On this full-day tour of central Lisbon, we'll study the cuisines, history and diversity of Portugal's former colonies. Get a taste of Cape Verdean cachupa, Brazilian pastries, Goan samosa, layered convent cake bedecked with spices and Angolan piripiri sauce and meet the people in the kitchen keeping the traditions of these communities alive.
More than five hundred years ago, Portuguese explorers set out by ship and forever changed the world by opening up trading channels between otherwise disconnected places – Europe to India, West Africa to Brazil and beyond. Spices, coffee, knowledge, gold and, most tragically, enslaved people, filled their ships as fortune and settlements grew. From Brazil in the west to Macau in the East and many points in between, the Portuguese planted their flag creating a direct connection between Lisbon and those distant lands. In colonial kitchens, a hybrid cuisine developed, combining local and Portuguese influences, adding in new materials arriving in the hold of Portuguese ships. Today, almost 50 years after Portugal's colonial era officially ended, Lisbon benefits immensely from the presence of communities from the country's former colonies, which are so intertwined with Portuguese history. The story is complicated, the populations diverse and their food, across the board, is delicious.
On this full-day tour, we will explore the complex story of post-colonial Portugal through how it's expressed in the kitchens of central Lisbon. We'll start with the signature Cape Verdean stew, cachupa. Packed with hominy, studded with Portuguese chorizo and topped with an egg, the version we'll try is prepared by the self-proclaimed "King of Cachupa" himself. We'll have coffee from Angola and chocolate from Sao Tome, learning about these commodities roots in slavery and their current move toward free-trade standards. We'll visit a shop selling religious icons from Brazil and learn about how African religious traditions were disguised within Catholicism for centuries by colonial subjects of the Portuguese crown.
Though Portuguese language and the Catholic faith were once the cornerstones of Portugal's colonies, in all of these diverse kitchens the real object of devotion is piripiri, the chili pepper, and we will sample a few versions of the chili-based sauce that reflect a range of tastes, from Africa to Asia. Up one hill and down another, we'll reward ourselves with the city's finest shrimp samosa and meet the irreverent chef pushing the boundaries of both Goan and Portuguese cuisines. We'll visit with street vendors from Guinea, and take in some hidden history on our way to a hip new spot with a Brazilian chef creating modern renditions on the food of his home country, including a puff pastry stuffed with succulent octopus. Finally, sunset will find us in a small Cape Verdean taverna run by the matriarch of her street, where we'll have a digestive of house-made poncha, sweetened sugar cane liqueur, toasting senhora Maria and the survival of such rich and diverse traditions, all at home in little old Lisbon.
Fee includes everything consumed on the walk. Some special features:
| | | | |
| --- | --- | --- | --- |
| | Residential neighborhood | | Children welcome |
| | Samples fish / Pescatarian friendly | | Samples seafood but alternatives can be available |
| | Gluten-free options available | | Samples alcohol |
| | One large stair climb | | Cannot accommodate a vegan diet |
MULTIMEDIA
FAQ
How are you dealing with COVID-19 risk on your walks?


We have reinforced our commitment to safety with new guidelines to assure maximum safety of our guests on our walks in terms of social distancing and hygiene while maintaining the quality of the experience. For more details on our precautions, read here. We are proud to have received the tourism stamp of clean & safe for our safety precautions.
Our routes have been altered during this period of time to ensure the safety of our guests, guides and community. Our cancellation policy is extremely flexible to deal with changes in travel plans.

What are the current travel restrictions or requirements in Portugal?

You can read the full travel regulations by location for Portugal here. Currently there are no quarantine requirements in Portugal Continental unless symptoms are shown or there is known contact with an infected person. Our cancellation policy is extremely flexible to deal with changes in travel plans. Please contact us for specific questions on travel restrictions.

What is included in the fee?

In addition to your Culinary Backstreets guide, all food consumed on the walk – almost a dozen different edible specialties – are included in the price. A limited selection of alcohol is served on the walks and is included in the price.

Why is the Culinary Backstreets tour more expensive than some other walking tours?

Our approach is different than most tour companies. Each of our culinary walks is the outcome of considerable research. We work with academics in the field and our own team of experienced professionals – both guides and local journalists. Our ongoing publishing of articles, from restaurant reviews to features about the intersection of food and culture, constantly feeds new material into the culinary walks, so they evolve and constantly improve. Though costly, we believe that this is how to create the quality experiences we strive for. We practice honest tourism and would never accept a free lunch or any sort of commission. On the contrary, we are proud to know that the money spent during the culinary walk goes to support businesses that we believe in, helping to preserve the social and cultural fabric of the cities we love so dearly.

How does the payment process work?

Once you have made a reservation, we require the full fee to be paid in order to complete the online booking. Your card will not be charged until the booking is accepted. Our online booking system uses Stripe to process secure payments.

What is your cancellation policy?

100% will be refunded if given 1 week notice prior to walk and 50% will be refunded if given 72 hours notice or more.

Are your walks public or private? How many people are on them?

Our walks are 2-7 people and are open to the public. If you would like to do a private walk, we may be able to arrange one for an additional fee. Please contact us at walks@culinarybackstreets.com for more information.

Can I get a discount if I join more than one walk?

Yes, we offer a 10% discount to those who join more than one walk. Please email us at walks@culinarybackstreets.com if you'd like to join multiple walks.

Are your walks suitable for people with food allergies?

This can vary based on a number of factors, including the food item in question. Please email us at walks@culinarybackstreets.com to discuss your situation before booking. Participants with bell pepper allergy can join this walk.

Are your walks suitable for vegetarians and pescetarians?

Pescetarians will be very comfortable with the exception of one stop. We can also accommodate vegeterians on this walk, however, many of the Portugese classics contain meat or seafood. Please note all dietary restrictions during booking so that your guide can prepare accordingly.

Are your walks suitable for a gluten-free diet?

This walk can be altered for gluten-free diets. Please note all dietary restrictions during booking so that your guide can prepare accordingly.

How physically demanding are the walks?

The walk covers a few kilometers of fairly flat terrain, broken up into almost a dozen stops over almost 6 hours. Please note that Lisbon does have many hills and the streets and sidewalks of Lisbon can be cobblestone, therefore, we do recommend wearing comfortable walking shoes.

Can children join the walks?

Of course! We offer a 50% discount to children ages 12 and under, and we do not charge for children under the ages 6 and under.

Can you pick me up from my hotel? How will I return, once the tour is over?

Our tour prices don't include transportation. If you book a tour, you're responsible for arriving to the pre-arranged meeting spot on your own. Once the tour is over, we will help you get an authorized, safe taxi to your hotel, or provide directions on public transportation, if you're interested in that.

How much food will I get to try?

This is really up to you. We generally make between 9 and 12 eating stops on our walk and try to include some breaks from eating along the way. The price includes as much food as you're open to trying. We offer a suggested portion size at each stop and you can take our recommendation if you'd like. Our walks often involve street food and sharing food.