Harvest Time in the Cradle of Wine
OVERVIEW
On this mouthwatering week-long trip, we'll explore the birthplace of wine, Georgia, and it's unique feasting tradition. We'll enjoy home visits, rural excursions, exclusive performances, historic and cultural tours, cooking workshops and much more.
Tucked between the Black and Caspian Seas and in the shadow of Europe's highest mountains you'll find Georgia – a tiny country with an astounding culinary heritage and a winemaking tradition tracing back eight millennia. We'll be delving into this appetizing wonderland during rtveli – the grape harvest – Georgia's most inspiring time of year. And we aren't only going to witness the harvest—we're going to take part in it, too.
This week-long gastronomic adventure takes place in and around the capital of Tbilisi. We'll also spend two days in the Alazani Valley, perhaps the most beautiful wine region in the world. Here, we'll experience the deep reverence for winemaking that defines this land. Along the way, we'll take in unique performances, and get to know some of the passionate, talented Georgians upholding culinary tradition and, at the same time, challenging traditions to evolve with contemporary urban life.
HIGHLIGHTS
Culinary Workshops & Wine Tastings
Learn to make traditional Georgian dishes, such as khinkali (dumplings) or khachapuri (cheese bread). A wide variety of wines will be on offer, from the rustic and homemade to fine kvevri wines, as well as large winery vintages.
Agriculture Trips
Visit local winemakers to see, feel, taste, and learn about the ancient art of making wine in kvevri, huge terra cotta vessels that are buried in the ground. We'll take part in the process ourselves, possibly tasting and harvesting grapes.
Market Tours and Home-Cooked Meals
Take a guided visit through Tbilisi's central farmers market and enjoy several home-cooked village meals. Georgians consider visitors gifts from God and endearingly call them okros stumrebi—"golden guests." After seven days in Georgia, you'll understand this first-hand.
Performances & Demonstrations
Meet local artists and craftspeople, including a kvevri maker. We'll also experience a private performance by polyphonic singers, who create sounds unlike anything you've ever heard.
ITINERARY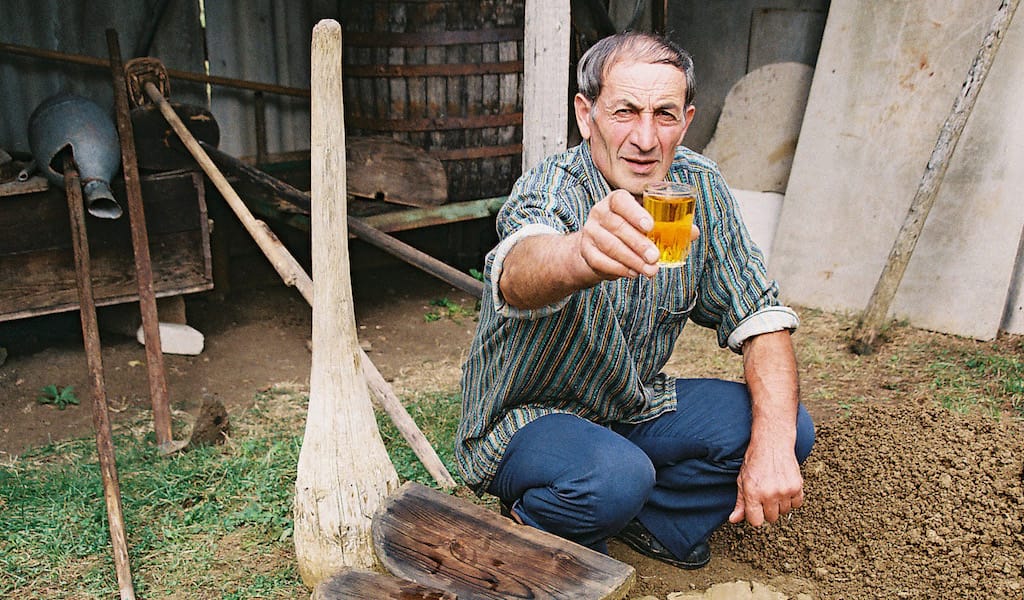 ADDITIONAL INFORMATION
Pricing and Accommodation

The total cost of this trip is $2,600. For travelers wishing to have single accommodations during the trip, an additional $400 will be due at the time of the final payment. A $500 non-refundable deposit per traveler is required to secure space on the trip. The balance is due 90 days prior to the start of the trip.

Activity Level

Travelers should feel comfortable walking three to five miles each day and remaining on their feet for long periods of time. Be prepared to roll up your sleeves and get hands-on during a couple cooking workshops.

Arrival and Departure

For flights in and out of Tbilisi International Airport (TBS), we suggest you arrive anytime before 3 p.m. on Day 1 and depart anytime on Day 7. Note that most inbound and outbound flights at TBS are scheduled for very early in the morning; we include the night before it starts so you have time to rest prior to the trip. We'll provide the option of booking extra nights at our Tbilisi hotel before and/or after the tour, and are more than happy to provide suggestions for things to do and see in the city on your own.

Inclusions

• Seven nights of accommodation in a boutique hotel.
• Experienced, English-speaking guides—accompanying you during different sections of the trip.
• All meals, drinks and wine throughout the trip.
• All activities and events as mentioned in the itinerary.
• Transportation during the trip, including in a private coach. Travel within the city can be by foot for short distances.
• A hungry group of Culinary Backstreets travelers, excited to explore all that Georgia has to offer!

Exclusions

• Transportation and flights to and from Tbilisi, including airport transfers.
• Food and drink outside of CB Trip offerings, including one dinner and any snacks during the day, as well as any personal expenses.
• If applicable, applying for an Georgian visa (not required for U.S. or E.U. citizens).
• Travel insurance (recommended).

Dietary Restrictions

We encourage an adventurous palate! However, if you'd like to avoid meat, the Georgian diet is vegetarian-friendly, so we can almost always supplement a non-meat dish. Avoiding gluten, on the other hand, will be challenging. If you'd like to join but are gluten-intolerant, you'll need to bring and/or buy a steady stash of snacks to supplement your meals.
The trip is centered around wine and includes a copious amount of alcohol consumption.

Notes on Itinerary

Itineraries and daily schedules are subject to change. We expect to do everything listed in the itinerary, though the order may be rearranged based on weather or other local conditions.

COVID-19 Update

We have reinforced our commitment to safety with new guidelines to assure maximum safety of our guests on our trips in terms of social distancing and hygiene while maintaining the quality of the experience. For more details on our precautions, read here.
Our itineraries have been altered during this period of time to ensure the safety of our guests, guides and community.Our cancellation policy is extremely flexible to deal with changes in travel plans.
Testimonials
"Beyond anything I could have imagined… The weather was warm, the people were warm, the food was amazing and copious. An experience not to be missed, it will change your life!"
---
A culinary and cultural tour, where you experience the "real Georgia" as lived by the guides. You get to meet fascinating and well-known chefs, winemakers, cheesemakers, and others, that are clearly friends with the guides. It's a warm welcome at every stop, with both the guides and the people we visit making everyone on the tour feel at home."