The Saturday Special: Corona's Culinary Essentials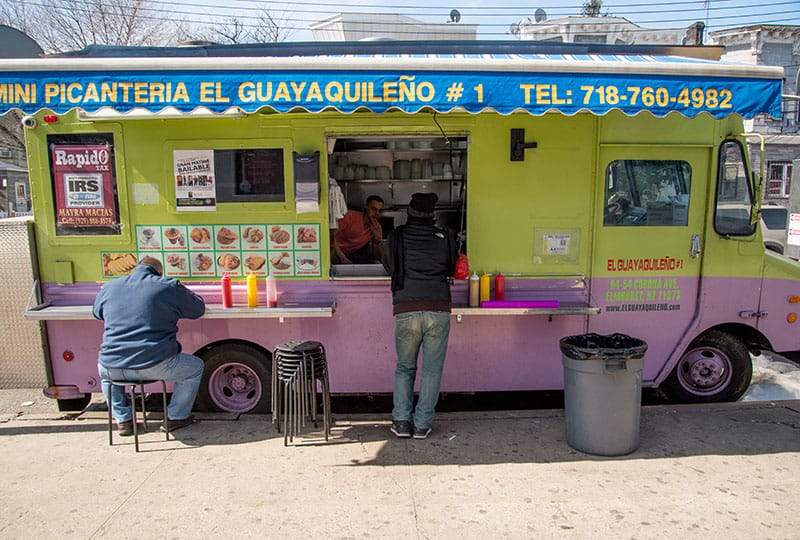 Quick Bite: On this food tour in Queens, we'll hit the streets on a Saturday, when the griddles, grills and vendors are out in full force, to explore Corona's culinary essentials.
To many, the Corona neighborhood of Queens is something of a mystery, a place you only pass over on the elevated tracks of the 7 train as it hurtles towards a Mets game or the restaurants and food courts of Flushing.
To us, though, the neighborhood is nothing less than the culinary epicenter of New York's Latin American community, a place where you can find regional specialties ranging all the way from the Tierra del Fuego up to Mexico's northern border with the United States. On this half-day introduction to Corona's culinary essentials, we hit the streets on a Saturday, when the griddles and grills in this already lively neighborhood are working overtime and the street vendors come out in full force.
We'll start our day in pedestrian-only Corona Plaza, the neighborhood's bustling meeting place, and drop by a family-run Mexican bakery where we'll join the weekend ritual of picking out sweet breakfast pastries and rolls from large trays set out for the customers. From there, we'll continue to an out-of-the-way spot where we'll sit down with neighborhood families to enjoy a hearty Mexican-style brunch of pit-roasted goat.
"….it's a tantalizing introduction to what makes Queens such a culinary Promised Land."
Our food tour in Queens continues along Roosevelt Avenue, the area's main artery and Queens's own version of the Pan-American Highway, which on the weekends is lined with street vendors from throughout Latin America selling their edible wares. Along the way we'll stop by tamale vendors, Ecuadorian food trucks and a side street evangelical church that on the weekends sells some of Queens' finest pupusas, made with ingredients brought fresh from El Salvador. To satisfy our sweet tooth, we'll drop into an Argentinean corner bakery for some traditional treats and make a stop for a "cholado," a hybrid frozen dessert and fruit salad also known as the Colombian Snow Cone.
We'll end our day at a small bodega opened by a man from Veracruz, Mexico, who started off as a street vendor selling seafood dishes from his hometown, going inside for a celebratory (shrimp) cocktail. This last stop leaves us at the edge of Jackson Heights and Elmhurst, two immigrant neighborhoods that hold their own culinary riches (and which are further explored as part of our longer Queens walk), a tantalizing reminder that during this half-day we've only scratched the surface of what makes Queens such a culinary Promised Land.
Fee includes everything consumed on the walk. Some special features:
| | | | |
| --- | --- | --- | --- |
| | Terrain fairly flat/ Stroller – friendly | | Children welcome |
| | Many, but not all, stops can be altered for vegetarians | | Cannot accommodate a vegan diet |
| | Can accommodate a gluten free diet | | |
FAQ
How are you dealing with COVID-19 risk on your walks?
We have reinforced our commitment to safety with new guidelines to assure maximum safety of our guests on our walks in terms of social distancing and hygiene while maintaining the quality of the experience. For more details on our precautions, read here.
Our routes have been altered during this period of time to ensure the safety of our guests, guides and community. Our cancellation policy is extremely flexible to deal with changes in travel plans.
What is included in the fee?  In addition to your Culinary Backstreets guide, all food consumed on the walk – more than a dozen different edible specialties – are included in the price.  Alcoholic beverages are not included.
Why is the Culinary Backstreets tour more expensive than some other walking tours?
Our approach is different than most tour companies. Each of our culinary walks is the outcome of considerable research. We work with academics in the field and our own team of experienced professionals – both guides and local journalists. Our ongoing publishing of articles, from restaurant reviews to features about the intersection of food and culture, constantly feeds new material into the culinary walks, so they evolve and constantly improve. Though costly, we believe that this is how to create the quality experiences we strive for.
We practice honest tourism  and would never accept a free lunch or any sort of commission. On the contrary, we are proud to know that the money spent during the culinary walk goes to support businesses that we believe in, helping to preserve the social and cultural fabric of the cities we love so dearly.
How does the payment process work?
Once you have made a reservation, we require the full $150 fee to be paid in order to complete the online booking. Our online booking system uses Stripe to process secure payments.  Your card is only charged if the walk is confirmed.
What is your cancellation policy?
100% will be refunded if given 1 week notice prior to walk and 50% will be refunded if given 72 hours notice or more.  All refunds may be subject to credit card processing fees.
Are your walks public or private? How many people are on them?
Our walks are 2-7 people and are open to the public. If you would like to do a private walk, we may be able to arrange one for an additional fee. Please contact us at walks@culinarybackstreets.com for more information.
Can I get a discount if I join more than one walk?
Yes, we offer a 10% discount to those who join more than one walk. Please email us at walks@culinarybackstreets.com if you'd like to join multiple walks.
Are your walks suitable for people with food allergies?
This can vary based on a number of factors, including the food item in question. Please email us at walks@culinarybackstreets.com to discuss your situation before booking.
Are your walks suitable for vegetarians, pescetarians, and vegans?
This walk can be altered for vegetarians and pescetarians but vegans will have difficultly partaking in all of the stops.  All dietary restrictions should be noted in the booking.
Are your walks suitable for a gluten-free diet?
This walk can be altered for gluten-free diets, but, please note this in your booking.
How physically demanding are the walks?
This walk covers a couple of miles of walking but it is on fairly flat terrain and is not demanding physically.
Can children join the walks?
Of course! We offer a 50% discount to children ages 12 and under, and we do not charge for children under the ages 6 and under.  The route is fairly stroller-friendly.
Can you pick me up from my hotel? How will I return, once the tour is over?
Our tour prices don't include transportation. If you book a tour, you're responsible for arriving to the pre-arranged meeting spot on your own.
Once the tour is over, we will help you get an authorized, safe taxi to your hotel, or provide directions on public transportation, if you're interested in that.
How do I get back to the meeting point when the tour ends?
It is possible to take the 7 train and you'll be back at the meeting point in about 10 minutes.
How much food will I get to try?
This is really up to you. We generally make between 6 and 9 eating stops on our walk and try to include some breaks from eating along the way. The price includes as much food as you're open to trying. We offer a suggested portion size at each stop and you can take our recommendation if you'd like. Our walks often involve street food and sharing food.
Is Queens safe these days?
Yes, we find Queens a very safe place to explore.   We do hit some crowded areas and always suggest that you keep important valuables and passports at your hotel.