Xochimilco Farm Feast: Exploring the Urban Oasis's Canals and Gardens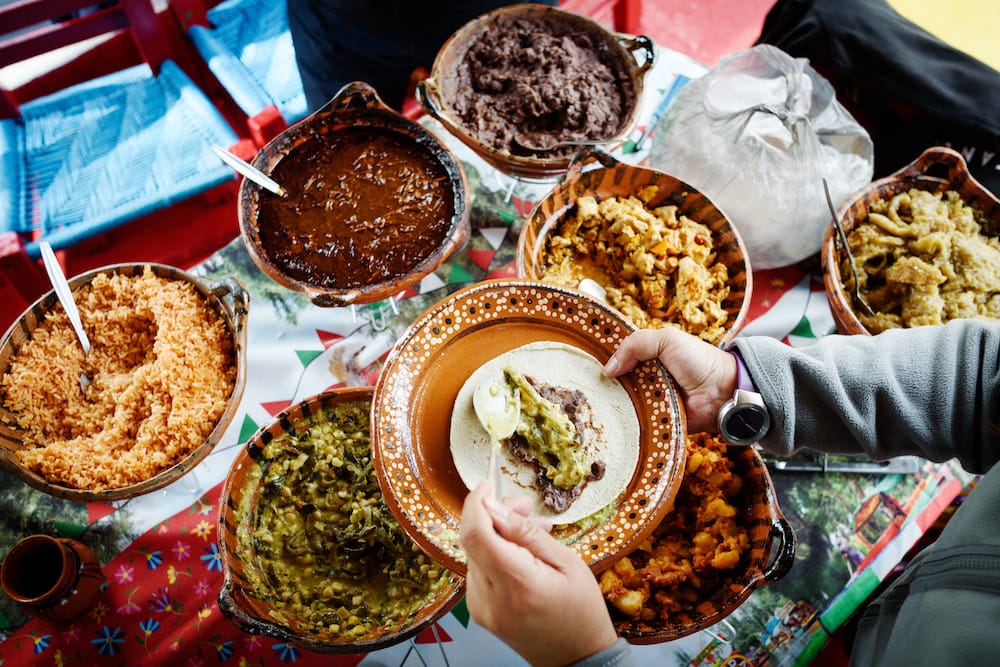 Quick bite: On this full-day tour of Xochimilco, for private groups of seven or more, we will have exclusive access by private boat to family farms, meet the people upholding ancient agricultural traditions and enjoy a rustic feast in a field surrounded by canals and family gardens. The day begins with breakfast, ends with a big lunch and includes snacks along the way.
Mexico City may be a sprawling metropolis of 21 million, but on its edge is an oasis of green unlike any other in the world. Known as Xochimilco, it is the last part of the city that preserves an ancient system of canals and farms first built by the ancient Toltecs when the area was on the edge of a long-gone lake.
On this Xochimilco tour, for private groups of seven or more, we'll explore how this UNESCO heritage site remains relevant to modern Mexico City — as a place for a pleasure cruise to some and a vital agricultural resource to others. We'll cruise by boat well beyond the tourist zone and into agricultural areas, to learn more about its culture and food and meet the people who maintain its one-of-a-kind agricultural system, called chinampas, which are island plots of farmland between the canals. In a verdant field, surrounded by productive farms edged by tight canals, we will be hosted for a feast to remember by a local farming family. 
Our day-long tour starts with coffee and pastries in central Mexico City, before departing by private van for the eco-reserve of Xochimilco. There we will avoid the central canal clogged with touristic boats and head deeper into the reserve where small farms are still being cultivated in ingenious and sustainable ways that have remained unchanged since pre-Columbian times. We'll follow the cultivation process in a series of visits to different gardens – from the nursery where the soil is laid out and scored in a perfect grid and seeds are planted by hand to the field where young plants grow to maturity. In between stops, we'll sample fresh produce as we cruise through this unique natural environment. Finally we will arrive at our last stop, a large farm on a tiny canal, where our farmer/host, Juanito, will show us what's growing in season before we settle in for a multi-course rustic lunch prepared with just picked local produce. Expect flavorful mushroom stew, roast pork, squash, beans, rice and of course, freshly made tortillas. This will be a day in the life of an agricultural and cultural treasure of Mexico City, as few are able to experience it. 
Fee includes everything consumed on the walk. Some special features:
| | | | |
| --- | --- | --- | --- |
| | Can accommodate vegans but some bites will be missed | | Children welcome |
| | Can accommodate gluten-free diet | | Easy terrain, but not stroller – friendly |
| | Pork is served, but can be substituted | | Can accommodate dairy-free diet |
| | Cannot accommodate a vegan diet | | Can accommodate a fish- or seafood-free diet |
FAQ
How are you dealing with COVID-19 risk on your walks?

We have reinforced our commitment to safety with new guidelines to assure maximum safety of our guests on our walks in terms of social distancing and hygiene while maintaining the quality of the experience. For more details on our precautions, read here.Our routes have been altered during this period of time to ensure the safety of our guests, guides and community. Our cancellation policy is extremely flexible to deal with changes in travel plans.

What are the current travel restrictions or requirements in Mexico?

You can read the full travel regulations by location for Mexico here. There are currently no travel restrictions in Mexico. Our cancellation policy is extremely flexible to deal with changes in travel plans. Please contact us for specific questions on travel restrictions.

Am I going to get sick from eating Mexican food?

Mild discomfort is common for people who aren't used to eating Mexican spices. However, all the food stops on each of our tours have been personally tested by our founders, as well as each of our guides. We stand by their quality and cleanliness and would never include them if there was any doubt.

Can you pick me up from my hotel? How will I return once the tour is over?

Our tour prices don't include transportation to and from the meeting point, but it does to the town of Xochimilio. If you book a tour, you're responsible for arriving to the pre-arranged meeting spot on your own. If you book a private tour, we can arrange for the transportation to leave from your hotel. Once the tour is over, we will help you get an authorized, safe taxi to your hotel from the original meeting point, or provide directions on public transportation, if you're interested in that.

Is English spoken?

All of our walks are conducted in English unless otherwise specified. Our guides are locals who speak fluent English.

Can vegetarians or vegans take this tour?

This tour can definitely accommodate vegetarians and pescatarians and we will do our best to accommodate vegans, though they will have to skip some stops. Please do mention all dietary restrictions in your booking.

Are your walks suitable for people with food allergies?

This can vary based on a number of factors, including the food item in question. Please email us at walks@culinarybackstreets.com to discuss your situation before booking. The Xochimilco culinary acitivty works for anyone with cheese, nut and wheat allergies. It is also the best route for participants who have do not eat fish or seafood.

What should I wear?

Comfortable, closed-toed shoes (no flip-flops please), pants, and shirts in layers — it can be cooler in the morning and warmer in the afternoon. Please bring an umbrella if you're traveling in Mexico City's rainy season, from June-September.

How much walking is involved?

This is a full day including comfortable transportation to and from Xochimilco and a boat ride along with walking around this historic town. The walk is on fairly flat and easy terrain but the sidewalks are not always easy or stroller-friendly.

How much food will I get to try?

This is really up to you. We generally taste around a dozen items on each tour, but the price includes as much food as you're open to trying. We offer a suggested portion size at each stop and you can take our recommendation if you'd like. Our goal is to have you end the tour pleasantly stuffed, not so full you can barely walk. That said, everyone's appetite is different and we welcome all varieties!

What if it rains?

Our tours are conducted rain or shine.

Can I bring my children on this tour?

This walk is children-friendly and a wonderful way to see another part of the city that children particularly love. Please note that we do not have car-seats in the transportation, that is your responsibility and the walk is not always stroller-friendly. Children 6 and under are free of charge and children 7-12 are 50% off. Teenagers 13 and over often eat more than their parents and are full price.

What is your cancellation policy?

The entire reservation can be cancelled with 100% refunded minus credit card processing fees if cancelled more than 1 week in advance. Cancellations of more than 3 days, are refundable at 50% and less than 72 hours are not refundable.