Old Town and Beyond: A Tbilisi Silk Road Feast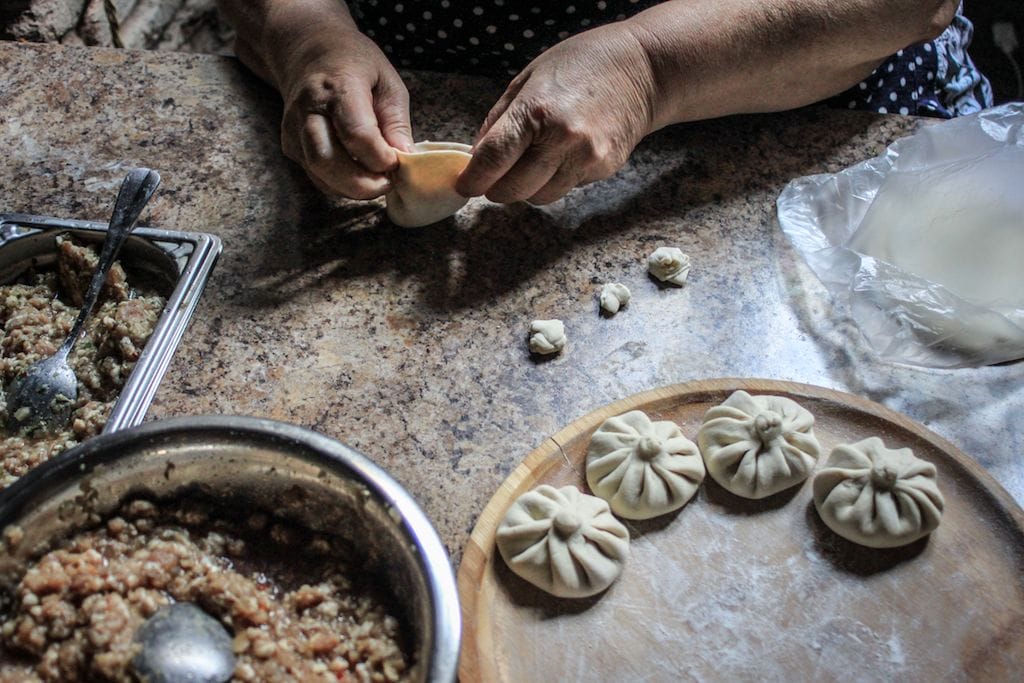 Quick bite: On this Tbilisi food tour and the epic day of eating, we'll explore the delicious roots of a cuisine that developed over centuries of being the crossroads of the Silk Road.
Our day begins where Tbilisi got its start millennia ago, by the natural hot springs in the oldest part of the city. Here, a mosque, synagogue and Georgian Orthodox cathedral provide a panorama that tells much about the city's diversity and its history as an important center of trade and culture and a key stop along the ancient Silk Road. Tbilisi's strategic location made it a desirable place to occupy, and there's no shortage of conquerors that passed through: Romans, Byzantines, Mongols, Khazars, Arabs, Persians, Ottomans, Russians and, finally, the Soviets.
Civilizations came and went, leaving their spices, herbs, recipes and cooking techniques, a heady mix that eventually morphed into Georgian cuisine. This rich history is the backdrop of our day's exploration.
We'll begin with a cup of expertly brewed tea in a traditional Azeri teahouse before making our way to a church-run shop selling products straight from Orthodox monasteries – long-time bastions of artisanal production – where we will sample stunning honeys and fresh matsoni, Georgia's take on yogurt. After a tasting of cheeses at a grocery dedicated to small-scale producers of Georgian specialties, we'll stop for a steaming plate of handmade khinkali, the utterly addictive dumpling that, despite being considered Georgia's national dish, traces its roots to the Asian steppe. At a charming café devoted to celebrating Georgia's agricultural bounty, we will taste of wide range of deeply flavorful walnut-based spreads and out-of-the-ordinary pickles. From there, after popping into the national gallery to get a visual introduction to the Georgian art of feasting, we'll settle into the quiet courtyard of a hidden restaurant for a belt-popping feast – or supra – of our own, with sizzling and garlicky chicken shkmeruli as the centerpiece. Finally, we will finish Tbilisi food tour with a tasting of natural kvevri wines (aged in clay vessels), made by a passionate new generation of winemakers who, while connected to international trends and markets, are deeply respectful of the ancient methods of Georgian winemaking.
This approach is reflective of where the city's cuisine is also heading. As Georgian food culture slowly emerges from its Soviet-era deep freeze, Tbilisi's chefs are looking beyond their country's borders while also reviving and safeguarding Georgia's unique culinary traditions. The open spirit of the Silk Road is back in town, and on this epic day of eating, we'll get a taste of what it's all about.
Fee includes everything consumed on the walk. Some special features:
| | | | |
| --- | --- | --- | --- |
| | Visits residential neighborhood | | Children welcome |
| | Can be adjusted for vegetarian diet | | Visits to historic site |
| | Samples alcohol | | Terrain fairly flat/ Stroller – friendly |
| | Cannot accommodate a vegan diet nor nut allergies | | Can be adjusted for a gluten free diet |
FAQ
How are you dealing with COVID-19 risk on your walks?
We have reinforced our commitment to safety with new guidelines to assure maximum safety of our guests on our walks in terms of social distancing and hygiene while maintaining the quality of the experience. For more details on our precautions, read here.
Our routes have been altered during this period of time to ensure the safety of our guests, guides and community. Our cancellation policy is extremely flexible to deal with changes in travel plans.
What is included in the fee?  In addition to your Culinary Backstreets guide, all food consumed on the walk – almost a dozen different edible specialties – are included in the price.  A limited selection of alcohol is served on the walks and is included in the price.
Why is the Culinary Backstreets tour more expensive than some other walking tours?  Our approach is different than most tour companies. Each of our culinary walks is the outcome of considerable research. We work with academics in the field and our own team of experienced professionals – both guides and local journalists. Our ongoing publishing of articles, from restaurant reviews to features about the intersection of food and culture, constantly feeds new material into the culinary walks, so they evolve and constantly improve. Though costly, we believe that this is how to create the quality experiences we strive for. We practice honest tourism  and would never accept a free lunch or any sort of commission. On the contrary, we are proud to know that the money spent during the culinary walk goes to support businesses that we believe in, helping to preserve the social and cultural fabric of the cities we love so dearly.
How does the payment process work?  Once you have made a reservation, we require the full fee to be paid in order to complete the online booking. Our online booking system uses Stripe to process secure payments.
What is your cancellation policy?  100% will be refunded if given 1 week notice prior to walk and 50% will be refunded if given 72 hours notice or more.
Are your walks public or private? How many people are on them?  Our walks are 2-7 people and are open to the public. If you would like to do a private walk, we may be able to arrange one for an additional fee. Please contact us at walks@culinarybackstreets.com for more information.
Can I get a discount if I join more than one walk?  Yes, we offer a 10% discount to those who join more than one walk. Please email us at walks@culinarybackstreets.comif you'd like to join multiple walks.
Are your walks suitable for people with food allergies?  This can vary based on a number of factors, including the food item in question. Please email us at walks@culinarybackstreets.com to discuss your situation before booking. In general, many Georgian dishes contain nuts, so a participant with a nut allergy might need to skip a few of the stops on our walk.
Are your walks suitable for vegetarians and pescatarians?  Most of the stops on the Tbilisi walk will be vegetarian or have vegetarian alternatives and substitutions.
Are your walks suitable for a gluten-free diet?  You can consider Georgia a gluten-free friendly country. Naturally, you won't be able to enjoy the staples of bread, khachapuri and khinkali, but we encounter a wide variety of gluten free food and there is no problem finding alternative dishes to our planned menus at the restaurants we visit.
Are your walks suitable for a dairy-free diet?  Some stops will not have any dairy-free options, but most stops will be able to accommodate a dairy-free diet.
How physically demanding are the walks?  The walk is not particularly demanding. The terrain is fairly flat and the total amount of walking, a few miles, is broken up by many stops where we sit and are able to rest while eating.
Can children join the walks?  Of course! We offer a 50% discount to children ages 12 and under, and we do not charge for children under the ages 6 and under. Plus, Georgians love children. You will find them most accommodating and attentive hosts.
Is the walk stroller friendly?  The streets of old Tbilisi, which constitute less than half of the tour, can be quite difficult with a stroller- narrow sidewalks, if at all, cobble stones, potholes. The rest of the tour is much easier with a stroller.
Can you pick me up from my hotel? How will I return, once the tour is over?  Our tour prices don't include transportation. If you book a tour, you're responsible for arriving to the pre-arranged meeting spot on your own. Once the tour is over, we will help you get an authorized, safe taxi to your hotel, or provide directions on public transportation, if you're interested in that.
Is Tbilisi safe these days?  The crime rate in Georgia is very low. Studies have revealed that it is safer than many western European cities. Nevertheless, one must be on guard for pickpockets.
Is there any alcohol on this walk?  Georgia's history of wine making goes back 8,000 years. Wine tasting is a prominent component of our walk. The concept of wine spittoons are not popular in Georgia and guests are encouraged to swallow their wine (a sin otherwise). However, a spittoon will be provided upon request at our wine tasting stop. For non-drinkers, Georgia offers excellent mineral waters and unique soda water flavored with tarragon, pear and grape, among others.