Beyond Bouillabaisse: Diving into Marseille's Multicultural Stew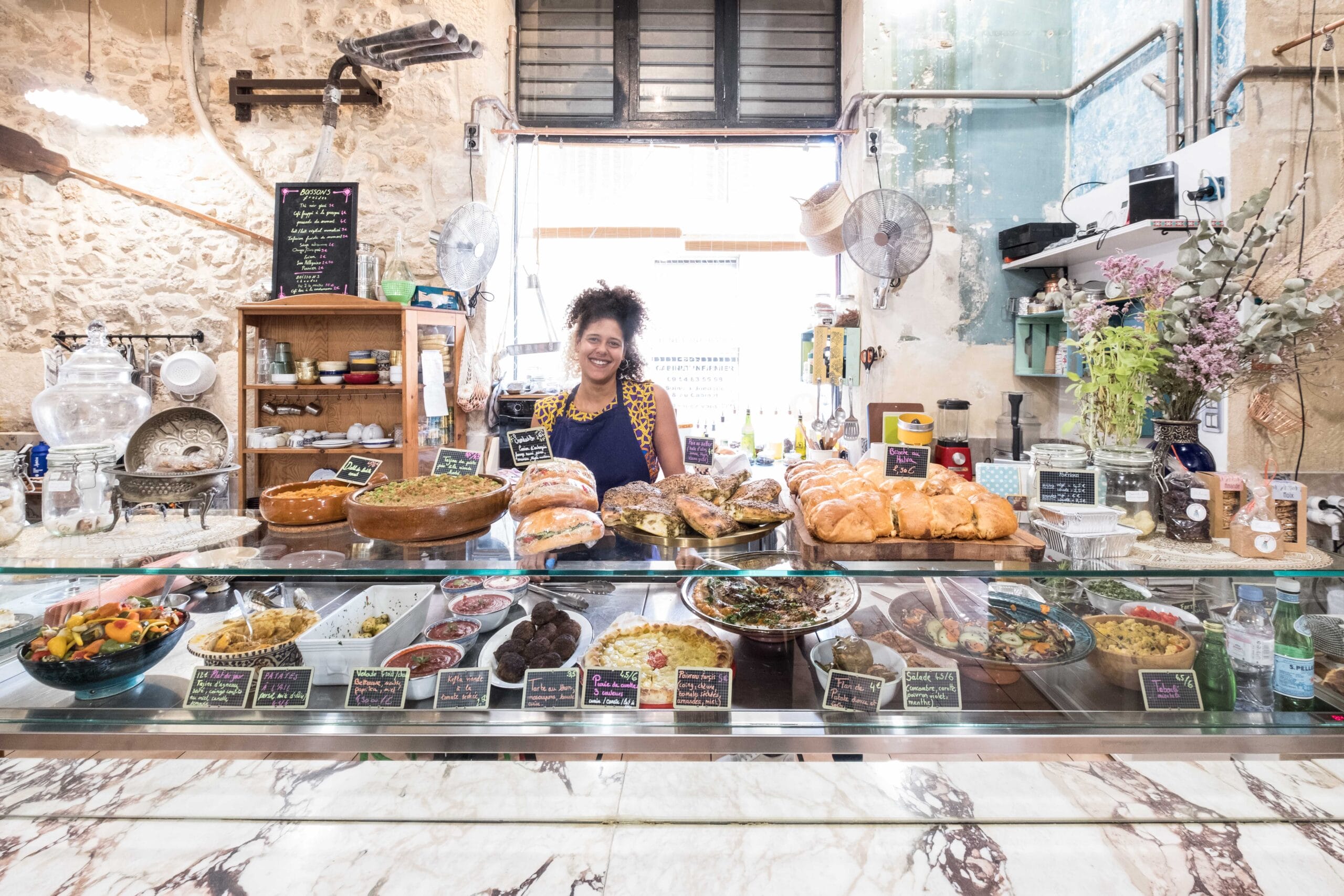 Quick Bite: Join this epic food tour in Marseille to discover the diverse flavors, people and places that make this vibrant port city so irresistible. 
Though the capital of Provence and France's 2nd-largest city, Marseille proudly grooves to its own Mediterranean beat – a mash-up of big-city grit and small-town sociability mixed with seagull squawks and scooter engines. Bookended by limestone fjords and garrigue hills, this working-class metropolis is profoundly shaped by its seaside location and its deep ties to the rest of the Mediterranean. The port has welcomed waves of goods, immigrants, and ideas since 600 B.C. Briny, boisterous, gritty and gorgeous, Marseille is a cultural crossroads in constant flux. The latest evolution was sparked in 2013, when the city reigned as Europe's Capital of Culture. Now, France's least-known city is finally on the map. Let us be your guide with this food tour in Marseille.
In the spirit of Walter Benjamin, MFK Fisher and other writers seduced by Marseille, we'll explore this city from within, wandering among its diverse faces, facades and flavors.
In the spirit of Walter Benjamin, MFK Fisher and other writers seduced by Marseille, we'll explore this city from within, wandering among its diverse faces, facades and flavors. We'll set sail from the Gare St. Charles train station where we will explore Marseille's migratory history followed by a quick breakfast and a coffee. Navigating between neighborhoods that stretch beyond the Vieux-Port, we'll taste freshly baked feetir pastries in a hip Egyptian bakery in the Longchamp area. There will be Algerian bradj stuffed with dates in Noailles and Marseille's signature boat-shaped biscuit, navettes, at a two-century-old café along the Canebiére, Marseille's iconic main boulevard.
There will be several other stops in between- fresh local seafood, lemonade made by Tunisian Jews, Corsican charcuterie, and much more- each peppered with history and encounters with locals to reveal what makes this 2600-year-old port city tick. To wrap up our day, we'll settle into a local institution by the port and do like the marseillais do with apèro, the traditional happy hour that is revered like a religion throughout the city.
Fee includes everything consumed on the walk. Some special features:
| | | | |
| --- | --- | --- | --- |
| | Features fantastic views | | Can accommodate pescatarians and non-fish eaters |
| | Children welcome, pretty stroller-friendly | | Seafood featured but can be substituted |
| | Can be altered for vegetarians; cannot accommodate a vegan diet | | Samples alcohol |
MULTIMEDIA
FAQ
How are you dealing with COVID-19 risk on your walks?

We have reinforced our commitment to safety with new guidelines to assure maximum safety of our guests on our walks in terms of social distancing and hygiene while maintaining the quality of the experience. For more details on our precautions, read here.
Our routes have been altered during this period of time to ensure the safety of our guests, guides and community. Our cancellation policy is extremely flexible to deal with changes in travel plans.

What is included in the fee?

In addition to your Culinary Backstreets guide, all food consumed on the walk – almost a dozen different edible specialties – are included in the price. A limited selection of alcohol is served on the walks and is included in the price.

Why is the Culinary Backstreets tour more expensive than some other walking tours?

Our approach is different than most tour companies. Each of our culinary walks is the outcome of considerable research. We work with academics in the field and our own team of experienced professionals – both guides and local journalists. Our ongoing publishing of articles, from restaurant reviews to features about the intersection of food and culture, constantly feeds new material into the culinary walks, so they evolve and constantly improve. Though costly, we believe that this is how to create the quality experiences we strive for. We practice honest tourism and would never accept a free lunch or any sort of commission. On the contrary, we are proud to know that the money spent during the culinary walk goes to support businesses that we believe in, helping to preserve the social and cultural fabric of the cities we love so dearly.

How does the payment process work?

Once you have made a reservation, we require the full fee to be paid in order to complete the online booking. Your card will not be charged until the booking is accepted. Our online booking system uses Stripe to process secure payments.

What is your cancellation policy?

100% will be refunded if given 1 week notice prior to walk and 50% will be refunded if given 72 hours notice or more.

Are your walks public or private? How many people are on them?

Our walks are 2-7 people and are open to the public. If you would like to do a private walk, we may be able to arrange one for an additional fee. Please contact us at walks@culinarybackstreets.com for more information.

Can I get a discount if I join more than one walk?

Yes, we offer a 10% discount to those who join more than one walk. Please email us at walks@culinarybackstreets.com if you'd like to join multiple walks.

Are your walks suitable for people with food allergies?

This can vary based on a number of factors, including the food item in question. Please email us at walks@culinarybackstreets.com to discuss your situation before booking.

Are your walks suitable for vegetarians and pescatarians?

We can accommodate pescatarians and vegetarians on this walk. Please note all dietary restrictions during booking so that your guide can prepare accordingly.

Are your walks suitable for a gluten-free diet?

This walk is difficult to alter for gluten-free diets. Please note all dietary restrictions during booking so that your guide can prepare accordingly.

How physically demanding are the walks?

The walk covers a few kilometers of fairly flat terrain, broken up into almost a dozen stops over almost 6 hours.

Can children join the walks?

Of course! We offer a 50% discount to children ages 12 and under, and we do not charge for children under the ages 6 and under.

Can you pick me up from my hotel? How will I return, once the tour is over?

Our tour prices don't include transportation. If you book a tour, you're responsible for arriving to the pre-arranged meeting spot on your own. Once the tour is over, we will help you get an authorized, safe taxi to your hotel, or provide directions on public transportation, if you're interested in that.

How much food will I get to try?

This is really up to you. We generally make between 7 and 10 eating stops on our walk and try to include some breaks from eating along the way. The price includes as much food as you're open to trying. We offer a suggested portion size at each stop and you can take our recommendation if you'd like. Our walks often involve street food and sharing food.