Culinary Secrets of the Centro Histórico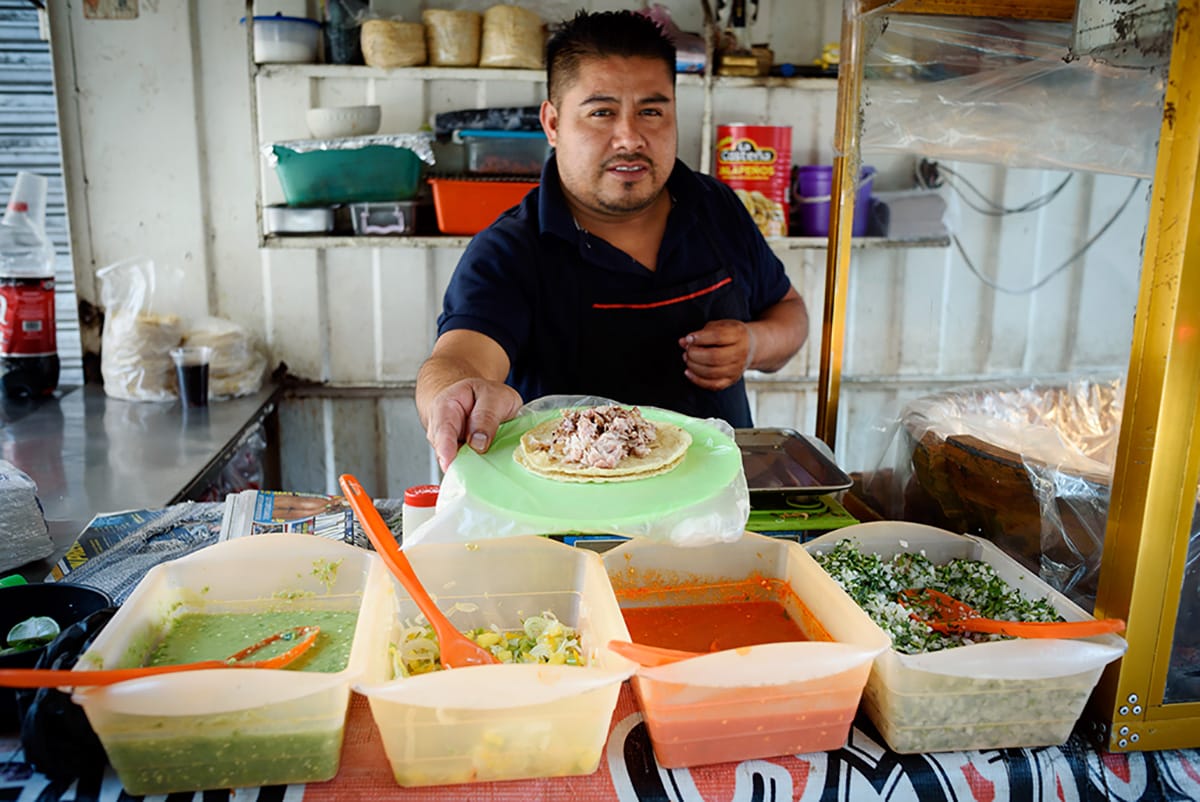 Quick Bite: On this food tour in Mexico City, we'll seek out the hidden gems of the city's famous Centro Histórico district, uncovering them layer by delicious layer.
The area encompassing the Centro Histórico, Mexico City's oldest quarter, has been the metropolis's beating heart for some 700 years; it's a neighborhood of countless historical layers. This is where the Aztecs first started building their capital, where the Spanish conquerors first planted a flag to build their colonial empire and where modern Mexico City, today a sprawling megalopolis, first emerged. The neighborhood is also home to the city's "Greatest Hits," those churches, palaces and museums that are on every visitor's to-do list. But in a district this rich in culture and history, there are a myriad "B-sides" – hidden gems that also deserve to be explored. This is particularly true when it comes to eating in the Centro: For every famous taco stand and restaurant there are countless others that are equally as enticing, if not more so.
On this food tour in Mexico City, we'll be exploring the district's deep tracks – with an emphasis on the out-of-the-way food spots that keep El Centro going – looking out for those quieter stories only heard by venturing through an unmarked wooden door.
On this food tour in Mexico City, we'll be exploring the district's deep tracks – with an emphasis on the out-of-the-way food spots that keep El Centro going – looking out for those quieter stories only heard by venturing through an unmarked wooden door. Along the way, we'll also get a crash course in Mexico City's history, layer by delicious layer. We'll start the day off by visiting two neighborhood breakfast institutions that have been helping locals start off their day for decades. As we work our way through the bustling Centro's cobblestoned streets, we'll also stop by several beloved food stands, from one serving the area's best carnitas to another that sells escamocho, a tropical fruit cocktail like no other. We'll duck into a side alley for homey enchiladas at a workers' lunch spot and explore the edible offerings at a 1930s-era covered market that is also home to a stunning display of public art. There will be a stop for a bite and a drink with the regulars at a neighborhood cantina that remains unchanged from when it first opened 100 years ago and then, to end the day, a sit down at another classic cantina for a meal of botanas, hearty home-style dishes that redefine upwards the concept of "bar snacks." It will be a day full of rewarding surprises – the kind only El Centro can provide.
Fee includes everything consumed on the walk. Some special features:
| | | | |
| --- | --- | --- | --- |
| | Some, but not all, stops can be altered for vegetarians | | Children welcome |
| | Can accommodate a gluten-free diet | | Not stroller – friendly |
| | Pork is served, but can be substituted | | Can accommodate a pescatarian diet |
| | Cannot accommodate a vegan diet | | Can accommodate a dairy-free diet |
FAQ
How are you dealing with COVID-19 risk on your walks?
We have reinforced our commitment to safety with new guidelines to assure maximum safety of our guests on our walks in terms of social distancing and hygiene while maintaining the quality of the experience. For more details on our precautions, read here.
Our routes have been altered during this period of time to ensure the safety of our guests, guides and community. Our cancellation policy is extremely flexible to deal with changes in travel plans.
What are the current travel restrictions or requirements in Mexico?
You can read the full travel regulations by location for Mexico here. There are currently no travel restrictions in Mexico. Our cancellation policy is extremely flexible to deal with changes in travel plans. Please contact us for specific questions on travel restrictions.
Am I going to get sick from eating Mexican street food or tacos? Mild discomfort is common for people who aren't used to eating Mexican spices or produce. However, all the food stops on each of our tours have been personally tested by our founders, as well as each of our guides. We stand by their quality and cleanliness.
Can you pick me up from my hotel?  How will I return once the tour is over? Our tour prices don't include transportation. If you book a tour, you're responsible for arriving to the pre-arranged meeting spot on your own. Most Mexico City hotels provide taxi services for guests, and it's generally easy and convenient to use them.  If you chose to have a private walk, the guide may be able to meet you at the hotel.
Once the tour is over, we will help you get an authorized, safe taxi to your hotel, or provide directions on public transportation, if you're interested in that.
Is English spoken?English is definitely spoken! Our guides are either American and bilingual in Spanish, or they're Mexicans who speak fluent English. We will also happily do a tour in Spanish if you prefer.
Can vegetarians or vegans take this tour?  Vegetarians, pescatarians definitely. Vegans will have a difficult time in Mexico City, but we will do our best to accommodate. Our tours also work for anyone with cheese, nut and wheat allergies. Please let us what know your dietary restrictions in advance.
What should I wear?  Comfortable, closed-toed shoes (no flip-flops please), pants, and shirts in layers — it can be cooler in the morning and warmer in the afternoon. Please bring an umbrella if you're traveling in Mexico City's rainy season, from June-September.
How much walking is involved?  Quite a bit. We want you to experience the most amount of food and culture possible, and while we are not actively walking the entire time, you will be required to walk from stop to stop. The entire walk is about 2.5km on fairly flat terrain but the sidewalks can be challenging.  Some of the street stands we visit also do not have seating, so you will eat standing up.
How much food will I get to try?  This is really up to you. We generally taste around six items on each tour, but the price includes as much food as you're open to trying. We offer a suggested portion size at each stop and you can take our recommendation if you'd like. Our goal is to have you end the tour pleasantly stuffed, not so full you can barely walk. That said, everyone's appetite is different and we welcome all varieties!
What if it rains?  Our tours are conducted rain or shine.
Can I bring my children on this tour?  Sure!  Children under 6 are free of charge, but Mexico City is not very stroller friendly, so you should either bring a baby carrier or have a kid ready to walk.  Children 7-12 are 50% off.  Teenagers 13 and often eat more than their parents and pay full price.
What is your cancellation policy?  The entire reservation can be cancelled with 100% refunded minus credit card processing fees if cancelled more than 1 week in advance.  Cancellations of more than 3 days, are refundable at 50% and less than 72 hours are not refundable.
What should I bring?  We strongly recommend leaving passports, credit cards, jewelry and professional cameras at home and carrying only a small amount of cash with you as we will be paying for everything you consume. We also strongly recommend not wearing open-toed shoes, shorts or jewelry.