Cosmopolitan Kurtuluş: Istanbul's Neighborhood of Taste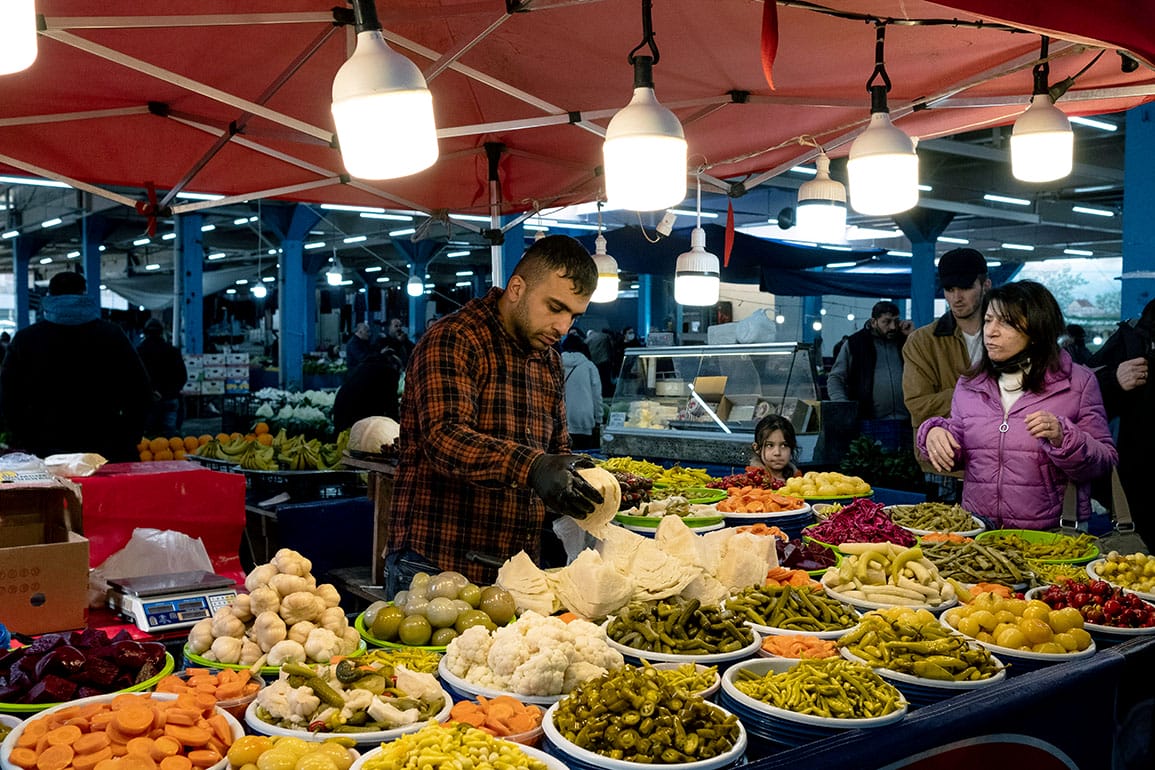 Quick bite: Far from the tourist trail, get a taste of one of the last bastions of classic Istanbul flavors, including bread fresh from the tandir oven, a mind-boggling assortment of meze, sizzling kebab, old school ice cream and much more. On this full-day food tour, we will dig deep into the culinary traditions of one of Istanbul's most culturally diverse and food-centric neighborhoods.
Lacking significant historic monuments, architectural treasures or Bosphorus views, there can be only one reason that Istanbulites love the buzzing Kurtuluş neighborhood so much: the stellar food. During the day in this unassuming historic residential neighborhood, a hive of small artisanal shops – charcuteries, meze counters, ice cream parlors, bakers, butchers, dairy specialists – uphold city traditions otherwise lost. After dark, a hopping scene of craft beer bars and kebab houses hold it down until the morning, when the weekly organic market attracts those serious about what they eat and cook with. To top it off, there's a whole street lined with shops and restaurants devoted to the fabled breakfast spread of eastern Turkey's Erzincan region. Not surprisingly, a visit to Kurtuluş can be an eye-popping and gut-busting experience. But step back from the table and you'll notice a rich cultural diversity no longer present in most parts of the city, an open-minded attitude, a cosmopolitan air and laid back sophistication, particularly when it comes to food. That's the Kurtuluş state of mind.
This full-day tour of the neighborhood – still home to important Greek and Armenian communities, as well as newcomers from Turkey's east – will take in very best of the neighborhood's bounty, honoring the people and places that keep local culinary life alive and well. We'll start with a tribute to the neighborhood's Rum, or Greek, heritage with an exclusive visit to a sports club belonging to that historic community, where we'll have our first breakfast, followed by a stop for the heavenly dairy delights of Erzincan. We'll walk off breakfast with visits to local artisans – artichoke peelers, cuckoo clock repairmen, Armenian book venders – as then begin grazing on our way to lunch. There will be stunning meze samples, including top-grade stuffed vine leaves and topik, a classic Armenian speciality. Down the street, kebabs at a real-deal grill house will arrive sizzling, fresh from the fire. Along the way, we'll sample street food from the Mediterranean port city of Mersin and share a couple plates of the daily special in a cozy family-run lokanta. Depending on the season, there may be boza, a fermented millet drink with Ottoman roots, or Turkish-style ice cream at a beloved dairy bar run by the third generation of a local family.
When our movable feast in Kurtuluş has come to an end, you'll see what we mean about what makes this neighborhood so unique, and, like many people, you may not want to leave. Not to worry: here in Istanbul's most diverse streets, you are always welcome back.
Fee includes everything consumed on the walk. Some special features:
Explores a residential neighborhood
Sometimes includes a home-visit.
Includes a market visit on weekends
No pork served on the tour
Can be modified for gluten-free
Very easy terrain. Best route for strollers.
MULTIMEDIA
FAQ
How are you dealing with COVID-19 risk on your walks?

We have reinforced our commitment to safety with new guidelines to assure maximum safety of our guests on our walks in terms of social distancing and hygiene while maintaining the quality of the experience. For more details on our precautions, read here.
Our routes have been altered during this period of time to ensure the safety of our guests, guides and community. Our cancellation policy is extremely flexible to deal with changes in travel plans.

What is included in the fee?

In addition to your Culinary Backstreets guide, all food consumed on the walk – almost a dozen different edible specialties – are included in the price.

Why is the Culinary Backstreets tour more expensive than some other walking tours?

Our approach is different than most tour companies. Each of our culinary walks is the outcome of considerable research. We work with academics in the field and our own team of experienced professionals – both guides and local journalists. Our ongoing publishing of articles, from restaurant reviews to features about the intersection of food and culture, constantly feeds new material into the culinary walks, so they evolve and constantly improve. Though costly, we believe that this is how to create the quality experiences we strive for. We practice honest tourism and would never accept a free lunch or any sort of commission. On the contrary, we are proud to know that the money spent during the culinary walk goes to support businesses that we believe in, helping to preserve the social and cultural fabric of the cities we love so dearly.

How does the payment process work?

Once you have made a reservation, we require the full $125 fee to be paid in order to complete the online booking. Our online booking system uses Stripe to process secure payments.

What is your cancellation policy?

100% will be refunded if given 1 week notice prior to walk and 50% will be refunded if given 72 hours notice or more.

Are your walks public or private? How many people are on them?

Our walks are 2-7 people and are open to the public. If you would like to do a private walk, we may be able to arrange one for an additional fee. Please contact us at walks@culinarybackstreets.com for more information.

Can I get a discount if I join more than one walk?

Yes, we offer a 10% discount to those who join more than one walk. Please email us at walks@culinarybackstreets.com if you'd like to join multiple walks.

Are your walks suitable for people with food allergies?

This can vary based on a number of factors, including the food item in question. Please email us at walks@culinarybackstreets.com to discuss your situation before booking. The Bazaar Quarter walk is the best route for participants who have an aversion to fish.

Are your walks suitable for vegetarians and pescatarians?

We do not generally recommend this walk for vegetarians; we would steer them towards the Hidden Beyoglu walk.

Are your walks suitable for a gluten free diet?

Gluten free is difficult in Turkey as so much of the dishes are wheat based. We can accommodate a gluten free diet on our Hidden Beyoglu walk but there are a few stops that may need to opt out of.

Is alcohol served on the walks?

No.

Is the food offered on the walks halal?

This is difficult to answer. In Turkey the halal certification process is relatively new, so though many butchers are halal they may not be certified and though many restaurants use halal products they may not advertise or even recognize it. Because of this, we cannot confidently say that all of the food is halal.

How physically demanding are the walks?

The walks are all about 2KM (1.25 miles) of fairly flat terrain. This walk does involved climbing hills and stairs and should be considered when making the reservation. The streets and sidewalks of Istanbul can be a bit unpredictable so we recommend good walking shoes. All our walks include numerous breaks along the way.

Can children join the walks?

Of course! But please note that Istanbul's streets – narrow, uneven and often lacking a sidewalk – can be challenging with a stroller. We offer a 50% discount to children 12 years old and younger. We do not charge for children 6 and under.

Do you offer walks during Ramazan?

We do not offer this walk during Ramazan and many local holidays.

How will I return, once the tour is over?

Our tour prices don't include transportation. If you book a tour, you're responsible for arriving to the pre-arranged meeting spot on your own. Once the tour is over, we will help you get an authorized, safe taxi to your hotel, or provide directions on public transportation, if you're interested in that.

How much food will I get to try?

This is really up to you. We generally make between 9 and 12 eating stops on our walk and try to include some breaks from eating along the way. The price includes as much food as you're open to trying. We offer a suggested portion size at each stop and you can take our recommendation if you'd like. Our walks often involve street food and sharing food.