A Day in Sants: Feasting Off the Grid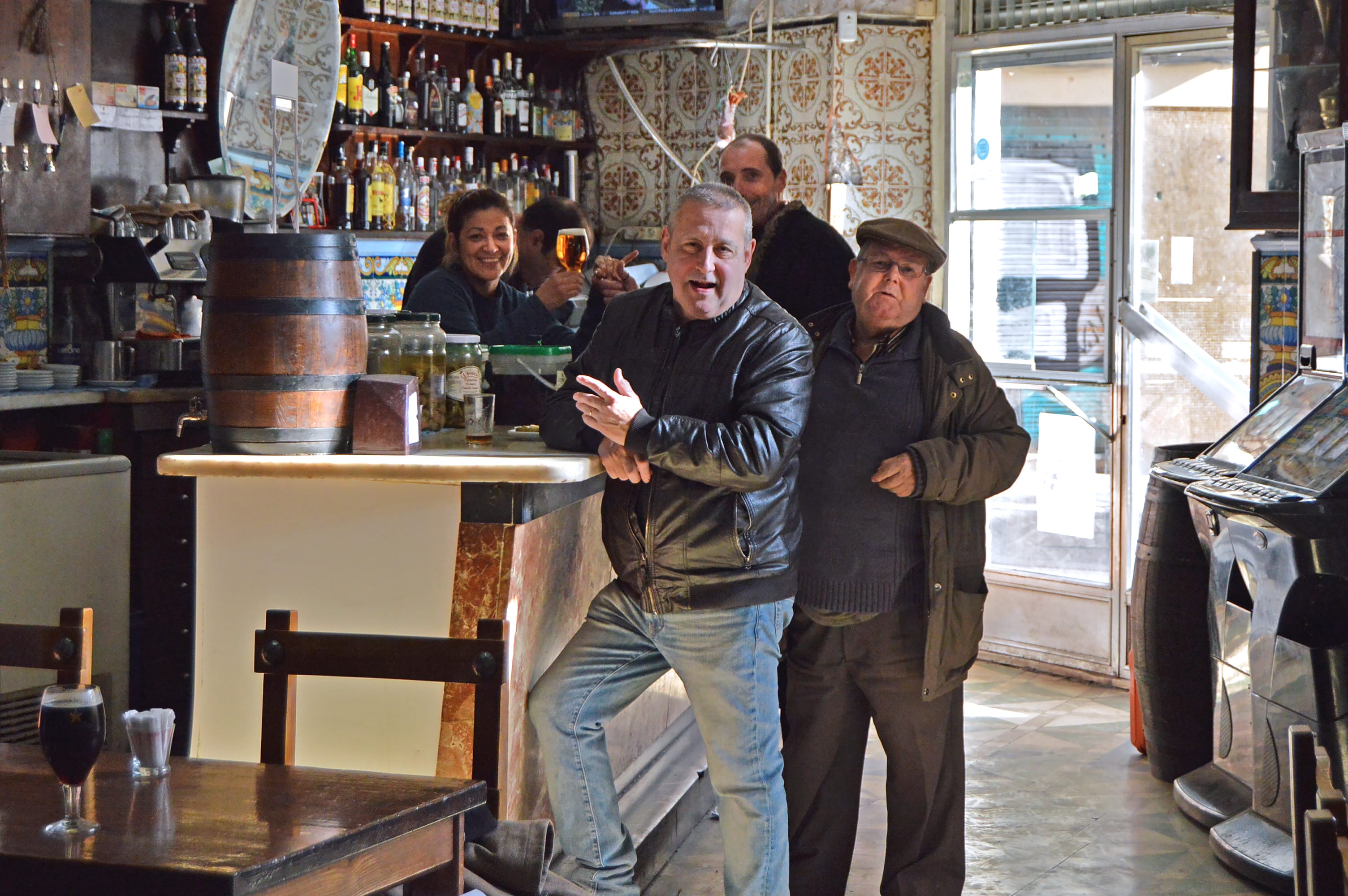 Quick bite: Join our Sants food tour to spend the day eating your way through a lesser-explored neighborhood with a booming local food scene and a fascinating history. We'll dig into markets and old vermuterias, pastry shops and down home restaurants, but we'll also find the pulse of Sants in some contemporary culinary projects.
Most locals know the Sants area as a place they pass through on their way to Barcelona's main train station, but to us it represents something much deeper: a neighborhood where we can still experience the city's original soul – culinary and otherwise.
While other parts of Barcelona, especially its historic center, have had to contend with the effects of the city's growing popularity, Sants has somehow managed to stay under the radar, allowing it to keep much of its traditional charm and way of life, while also being an inviting area for new ventures to give it a go. This is a place where you can still find old bodegas with wooden casks filled with bulk wine for sale, homey vermuterias where locals gather to chat over seafood tapas, family-run restaurants where neighbors come on a daily basis for favorite classics and bakeries that keep Catalan traditions alive by offering holiday specialties all year round. To top it off, the neighborhood has a recently restored covered market, countless old-school food shops and a wonderful mix of traditional spots that have been around for generations and new restaurants and tapas bars opened up by innovative young chefs escaping high rents in the center of town.
Adding to the neighborhood's distinct character and charm is its history rooted in Barcelona's 19th-century industrial development. Sants was once one of the city's economic engines, something reflected in the area's street names – there's one honoring James Watt, inventor of the steam engine – and the old factory chimneys that dot the neighborhood, as well as the still strong working-class identity of its residents. These days, the old textile factories that made the area famous are being put to use in new and innovative ways, housing an eclectic mix of community-run groups, from choirs to co-op radio stations and even urban farms.
On our Sants food tour, we will visit many of these neighborhood institutions, both old and new, getting a taste of what life in Barcelona was like before the city became the global hotspot that it is today. After a breakfast of pastries and coffee at a 1934 bakery that does double duty as a dry goods store, we will visit the restored Mercat de Sants – in business since 1913 – and sample what's on offer from the vendors inside. As we continue through the neighborhood, we'll drop by some of its numerous food shops and restaurants, both old and new, tasting well-loved dishes from menus that change according to the season. Along the way we'll stop at old school bodegas and bars to enjoy some vermut with tapas among the wine casks and at small bakeries and chocolate shops for handmade sweets.
We won't leave Sants, though, without a visit to one of the neighborhood's most unique social and cultural projects, a massive 19th century textile factory that after decades of disuse has been transformed by locals into a bustling cultural center – one that even has its own bar and microbrewery. Over a drink and more bites of Sants food, we'll learn about the history of community organizing in Sants and what makes this neighborhood so special. After all, it's not every day that you get a chance to go off the grid while still being in the heart of the city.
Fee includes everything consumed on the walk. Some special features:
| | | | |
| --- | --- | --- | --- |
| |  Terrain fairly flat/ Stroller – friendly | | Children welcome |
| |  Residential neighborhood, modernist building | | Includes market visits |
| |  Can accommodate vegetarian and pescatarian diet,  but not a vegan diet | | Pork and alcohol served, but can be substituted |
FAQ
How are you dealing with COVID-19 risk on your walks?

We have reinforced our commitment to safety with new guidelines to assure maximum safety of our guests on our walks in terms of social distancing and hygiene while maintaining the quality of the experience. For more details on our precautions, read here.
Our routes have been altered during this period of time to ensure the safety of our guests, guides and community. Our cancellation policy is extremely flexible to deal with changes in travel plans.

What are the current travel restrictions or requirements in Spain?

You can read the full travel regulations by location for Spain here. Starting July 1st, 2020, there will be no quarantine requirements for guests entering Spain. Our cancellation policy is extremely flexible to deal with changes in travel plans. Please contact us for specific questions on travel restrictions.

What is included in the fee?

In addition to your Culinary Backstreets guide, all food consumed on the walk- almost a dozen different edible specialties- are included in the price. A limited selection of alcohol is served on the walks and is included in the price.

Why is the Culinary Backstreets tour more expensive than some other walking tours?

Our approach is different than most tour companies. Each of our culinary walks is the outcome of considerable research. We work with academics in the field and our own team of experienced professionals – both guides and local journalists. Our ongoing publishing of articles, from restaurant reviews to features about the intersection of food and culture, constantly feeds new material into the culinary walks, so they evolve and constantly improve. Though costly, we believe that this is how to create the quality experiences we strive for.
We practice honest tourism and would never accept a free lunch or any sort of commission. On the contrary, we are proud to know that the money spent during the culinary walk goes to support businesses that we believe in, helping to preserve the social and cultural fabric of the cities we love so dearly.

How does the payment process work?

Once you have made a reservation, we require the full $135 fee to be paid in order to complete the online booking. Our online booking system uses Stripe to process secure payments.

What is your cancellation policy?

100% will be refunded if given 1 week notice prior to walk and 50% will be refunded if given 72 hours notice or more.

Are your walks public or private? How many people are on them?

Our walks are 2-7 people and are open to the public. If you would like to do a private walk, we may be able to arrange one for an additional fee. Please contact us at walks@culinarybackstreets.com for more information.

Can I get a discount if I join more than one walk?

Yes, we offer a 10% discount to those who join more than one walk. Please email us at walks@culinarybackstreets.com if you'd like to join multiple walks.

Are your walks suitable for people with food allergies?

This can vary based on a number of factors, including the food item in question. Please email us at walks@culinarybackstreets.com to discuss your situation before booking. The Sants walk can accommodate participants who do not eat fish, who do not eat seafood, or who do not consume dairy. Please note your dietary restrictions on your booking. Participants with allergy to bell peppers can join this walk.

Are your walks suitable for vegetarians, pescatarians, and vegans?

We do not recommend this activity for vegans but this walk can accommodate a vegetarian or pescatarian diet.

Are your walks suitable for a gluten-free diet?

We can modify this walk for gluten-free diets, please note it in your reservation.

How physically demanding are the walks?

The walk is about 2KM (1.25 miles) of fairly flat terrain, broken up into almost a dozen stops. The streets and sidewalks of Barcelona are quite well kept but we do recommend wearing comfortable walking shoes.

Can children join the walks?

Of course! We offer a 50% discount to children ages 12 and under, and we do not charge for children under the ages 6 and under.

Can you pick me up from my hotel? How will I return, once the tour is over?

Our tour prices don't include transportation. If you book a tour, you're responsible for arriving to the pre-arranged meeting spot on your own. Once the tour is over, we will help you get an authorized, safe taxi to your hotel, or provide directions on public transportation, if you're interested in that.

I have a ticket for La Sagrada Familia the same day. Can I still join the walk?

If your ticket is at 3:30 pm or later, you can join the walk that starts at 9:30 am and still make it on time to La Sagrada Familia.

How much food will I get to try?

This is really up to you. We generally make between 9 and 12 eating stops on our walk and try to include some breaks from eating along the way. The price includes as much food as you're open to trying. We offer a suggested portion size at each stop and you can take our recommendation if you'd like. Our walks often involve street food and sharing food.