The Creole Connection: Gumbo and Beyond in New Orleans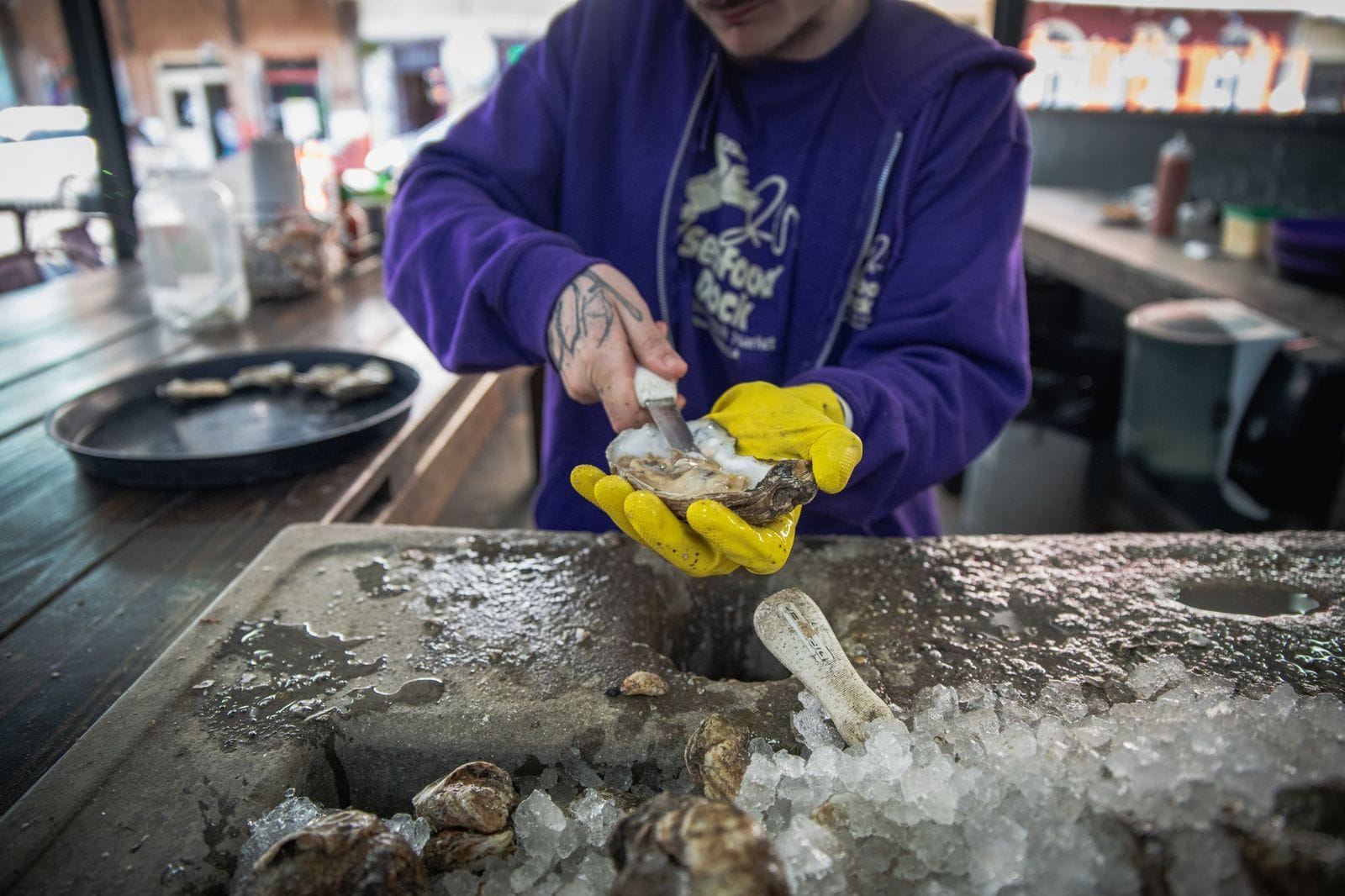 Quick Bite: On this food tour of Treme, the French Quarter and beyond, we will visit neighborhood restaurants, food shops and much more to discover the roots of Creole cuisine and meet the people in the city's kitchens who are upholding its traditions, by the spoonful.

New Orleans, with its vivid culture, complex mix of communities, unique history and elevated cuisine, defies comparison on the North American continent, if not planet Earth. In population, it is a city the size of Wichita; culturally, it has a footprint of Roman imperial proportions.
And that culture, so rich and distinct — a mix of African and French, with flashes of Haitian, Native American, German and Spanish influences — can best be described as "Creole," a flexible term that has come to mean many things over New Orleans's lengthy history. But Creole has always meant someone or something native to Louisiana, a product of its unique cultural mix, of this utterly original place. On this tour, we'll set off in search of New Orleans's and Creole culture's tangled roots, using the city's incomparable cuisine as our guide and it's historic neighborhoods in and around the French Quarter and Treme as our stage.
On this tour, we'll set off in search of New Orleans's and Creole culture's tangled roots, using the city's incomparable cuisine as our guide.
We'll begin in the city's oldest food marketplace with coffee and and a praline-stuffed beignet, the "cronut" of New Orleans, as we dig into the historical context of New Orleans creole identity. According to the season, we may have a freshly-shucked gulf oyster or a link of boudin before having a wedge of the Italian-Creole classic sandwich, the muffaletta. Up and down scenic streets lined great examples of native architecture, Creole cottages, our feast continues in the Treme neighborhood with a stop at a local grocery for a quick fix of a locally-beloved grab-and-go street snack followed by a top spot for yakamein, New Orleans-style ramen. If it's Friday, we'll stop by the home of a local resident-cum-chef for freshly fried fish, followed by a cup of seasonal gumbo at a neighborhood institution. We'll also pop into a corner grocery run by a family with Sicilian heritage who also operated a recording studio upstairs where some of the greats of the 1950's Rock n Roll and RnB, like Fats Domino, Little Richard and Ray Charles, cut singles. Finally, we'll pay a visit to an artisanal sausage-maker with Creole heritage, housed in a historic shop that was destroyed in Hurricane Katrina but rebuilt against all odds. Here we'll meet the 4th-generation sausage maker himself, and sample his iconic hot sausage poboy.
Along the way we'll stop by neighborhood monuments and meet members of the community who bring the rich history of this Creole city to life through their cooking. Depending on the season, there will something sweet at the end, be it a homemade praline or a refreshing snoball. And this being New Orleans, ever unpredictable, the tour may finish with a street parade or a torrential downpour — fortunately, in this city there's always a corner bar to duck into to digest the day's experience.
May 12, 2022 El Jaliciense (0)
When the hour strikes eight on Saturday morning, Hector Ramirez pulls the wooden handle […] Posted in Los Angeles
August 27, 2012 Meşhur Unkapanı İMÇ Pilavcısı (0)
Late one night, zipping down a busy Istanbul thoroughfare in a taxi on our way home from […] Posted in Istanbul
January 5, 2017 Zhang Mama (0)
When a menu is written only in Chinese characters, it presents a language barrier for […] Posted in Beijing
Fee includes everything consumed on the walk. Some special features:
Samples fish and seafood, Pescatarian-friendly
Children welcome
Visits residential neighborhoods
Stroller – friendly
Not suitable for vegans, vegetarians or gluten-free diets
OUR TOURS IN THE PRESS
DISABLE
FAQ
How are you dealing with COVID-19 risk on your walks?

We have reinforced our commitment to safety with new guidelines to assure maximum safety of our guests on our walks in terms of social distancing and hygiene while maintaining the quality of the experience. For more details on our precautions, read here.
Our routes have been altered during this period of time to ensure the safety of our guests, guides and community. Our cancellation policy is extremely flexible to deal with changes in travel plans.

What is included in the fee?

In addition to your Culinary Backstreets guide, all food consumed on the walk – more than a dozen different edible specialties – are included in the price.

Why is the Culinary Backstreets tour more expensive than some other walking tours?

Our approach is different than most tour companies. Each of our culinary walks is the outcome of considerable research. We work with academics in the field and our own team of experienced professionals – both guides and local journalists. Our ongoing publishing of articles, from restaurant reviews to features about the intersection of food and culture, constantly feeds new material into the culinary walks, so they evolve and constantly improve. Though costly, we believe that this is how to create the quality experiences we strive for.
We practice honest tourism and would never accept a free lunch or any sort of commission. On the contrary, we are proud to know that the money spent during the culinary walk goes to support businesses that we believe in, helping to preserve the social and cultural fabric of the cities we love so dearly.

How does the payment process work?

Once you have made a reservation, we require the full fee to be paid in order to complete the online booking. Our online booking system uses Stripe to process secure payments. Your card is only charged if the walk is confirmed.

What is your cancellation policy?

100% will be refunded if given 1 week notice prior to walk and 50% will be refunded if given 72 hours notice or more. All refunds may be subject to credit card processing fees.

Are your walks public or private? How many people are on them?

Our walks are 2-7 people and are open to the public. If you would like to do a private walk, we may be able to arrange one for an additional fee. Please contact us at walks@culinarybackstreets.com for more information.

Can I get a discount if I join more than one walk?

Yes, we offer a 10% discount to those who join more than one walk. Please email us at walks@culinarybackstreets.com if you'd like to join multiple walks.

Are your walks suitable for people with food allergies?

This can vary based on a number of factors, including the food item in question. Please email us at walks@culinarybackstreets.com to discuss your situation before booking.

How physically demanding are the walks?

This walk covers a couple of miles of walking but it is on fairly flat terrain and is not demanding physically.

Can children join the walks?

Of course! We offer a 50% discount to children ages 12 and under, and we do not charge for children under the ages 6 and under. The route is fairly stroller-friendly.

Can you pick me up from my hotel? How will I return, once the tour is over?

Our tour prices don't include transportation. If you book a tour, you're responsible for arriving to the pre-arranged meeting spot on your own.
Once the tour is over, we will help you get an authorized, safe taxi to your hotel, or provide directions on public transportation, if you're interested in that.

How much food will I get to try?

This is really up to you. We generally make between 8 and 10 eating stops on our walk and try to include some breaks from eating along the way. The price includes as much food as you're open to trying. We offer a suggested portion size at each stop and you can take our recommendation if you'd like. Our walks often involve street food and sharing food.