Marseille Culinary Trip with MOFAD
The Many Faces and Flavors of Marseille
OVERVIEW
Marseille is where Provence crashes into the Mediterranean Sea. Crossroads city, promised land, immigration hub, and cosmopolitan capital, this vibrant port has welcomed goods, people, and their recipes for over 2600 years. Gritty and gorgeous, Marseille's urban sprawl is bookended by breathtaking beaches and bucolic fishing villages, with graffiti-lined streets, low-rise apartments, and Belle Epoque grandeur mixed in the middle.
Though France's second largest city, Marseille is more like a smorgasbord of 111 villages, each with their own personality. Walk down the street in Noailles and you are as likely to find men in djelabas sipping Moroccan mint tea at sidewalk tables as you are to find pastis – Provence's definitive drink – poured at the bars du quartiers. Marseille's central neighborhood is a reminder that the city's identity is influenced as much by France as the other side of the Mediterranean.
An open port for two and a half millennia, Marseille's population is incredibly diverse. When this multiculturalism is mixed with Provence's long-standing food heritage and the laid-back joie de vivre of the south you get an unbelievably rich food scene. Which is fed by the city's abundant terroir, between the fish-laden Mediterranean and farm-fresh bounty of sun-soaked Provence.
Our culinary adventure invites you to taste the many flavors of Marseille. You'll savor pastis distilled from Chinese star anise, wood-fired pizza brought over by Italian immigrants in the 19th century and riffed upon by the sizable Armenian community, freshly baked Tunisian pastries by an 85-year-old legend, and pork terrines passionately made by a young chef. Along the way, we'll chat with fishermen, spice vendors, kosher bakers, Corsican butchers and winemakers, translating their savoir-faire so that you can truly get to know this singular city.
In between bites, we'll take a dip in the Mediterranean on an exclusive boat tour of the Calanques. You'll learn how to make olive oil soap, play pétanque on the beach, and how to cook fish like a local.
About our partnership: This trip is a part of a series offered in partnership with MOFAD, the world's premier food museum and global educational resource, inspiring generations of curious eaters of all ages and backgrounds.
HIGHLIGHTS
Apero Hour
Savor the traditional Marseille cocktail hour, or apero, in unusual places such as a treehouse, a rooftop, and, unforgettably, in an apartment in the brutalist-modernist masterpiece: Le Corbusier's Cité Radieuse.
Leisure sports
Learn to play pétanque, the local version of bocce ball, on the beach alongside seasoned players, followed by a sunset sardinade in the sand.
Cooking lesson
Take a cooking class in a chef's home after sourcing les poissons at the fish market and devour the fruit of your labor on his Mediterranean terrace.
Market tours
Taste your way through Noailles, the multicultural neighborhood known as the belly of Marseille
Yacht charter
Cavort in the turquoise coves of the Calanques National Park on a private boat, then dock at a hidden seaside restaurant
Producer visits
Tour a distillery that makes Marseille's iconic tipple, pastis, using herbs grown in its garden and plucked from the chateau's surrounding hills. Then, unwind with cocktails in the estate's treehouse bar
Hands-on demonstrations
Get your hands dirty making Marseille's most emblematic export: olive oil soap
Historic and cultural tours
Enjoy exclusive tours of iconic museums and cultural institutions
ITINERARY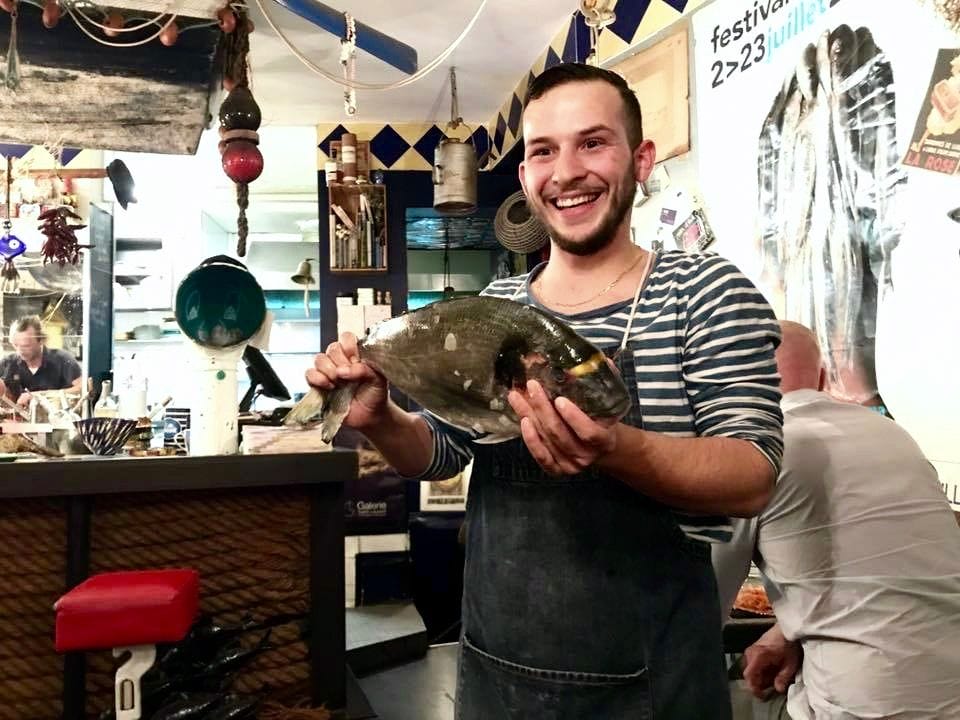 ADDITIONAL INFO
Pricing and Accommodation:
The total cost of this trip is $5,000. For travelers wishing to have single accommodations during the trip, an additional $750 will be due at the time of the final payment. A $500 non-refundable deposit per traveler is required to secure space on the trip. The balance is due 90 days prior to the start of the trip.
Inclusions:
• Six nights of accommodation in a boutique hotel.
• Talented local guides to accompany you throughout the trip.
• All meals, drinks and transportation during the trip, including in a private coach.
• All activities and events as mentioned in the itinerary.
• A hungry group of Culinary Backstreets travelers, excited to explore all that Galicia has to offer!
Exclusions:
• Transportation and flights to and from Marseille, including airport transfers.
• Additional meals and drinks outside of Culinary Backstreets offerings, including one lunch, one dinner, and some alcoholic beverages.
• If applicable, applying for a French visa (not required for U.S. citizens).
• Travel insurance (recommended).
Dietary Restrictions:
We encourage an adventurous palate! We try our best to accommodate dietary restrictions.  We can accommodate a pescatarian diet. Please contact us about any specific restrictions or food allergies.
COVID-19 Update:
We have reinforced our commitment to safety with new guidelines to assure maximum safety of our guests on our trips in terms of vaccination cards, testing, social distancing and hygiene while maintaining the quality of the experience.  For more details on our precautions, read here.  Our itineraries have been altered during this period of time to ensure the safety of our guests, guides and community. Our cancellation policy is extremely flexible in order to deal with changes in travel plans.