Culinary Backstreets Tbilisi Wine Club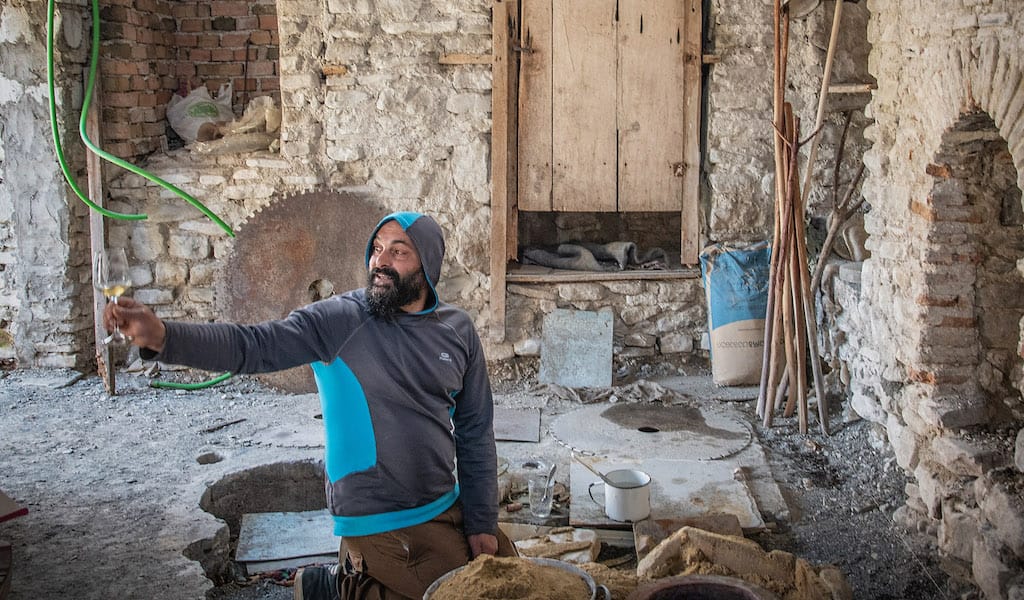 Quick bite: Join our small group Tbilisi Wine Club meetings to get to know independent winemakers, taste their wine and eat delicious snacks in a social atmosphere.
It wasn't so long ago when our choices for wine in Georgia were limited to ones made from a few varieties of grapes and decanted in old plastic Coke bottles. It was quaint, for sure, but not the kind of stuff one would expect from "the cradle of wine." However, in the past decade we have witnessed a growing renaissance, as more Georgians are embracing their millennium-long legacy and crafting remarkable wine. Every day new labels from family winemakers across the country appear in our favorite shops offering original takes of long-established varietals like saperavi and rkatsiteli, and reintroducing long lost ones like jgia and buza, which were nearly eradicated after decades of industrialization. There has never been a more exciting time to pop open a bottle.
Culinary Backstreets Tbilisi would like to invite you to experience this dynamic wine revival with us at our wine club. More than an exclusive degustation, it is an opportunity to dig deeper into Georgia's wine culture by meeting local winemakers who will share their stories, and their wine, providing us with the opportunity to learn more about the history of viticulture from their regions and the methods they use to turn the fruit into wine. But most of all, it is a friendly gathering of curious people eager to try something different and to have fun doing so. The semi-regular wine club will spotlight a different winemaker each time. Join them all and never settle for duty free-standard bottles again.
The price includes four wines and a delicious array of appetizers for pairing, taking place in a "corona-safe" outdoor setting provided by our host partner. There is a 7-seat minimum and 12-seat maximum. Social distancing rules will be observed.
The featured winemaker will be Samtavisi Marani on July 2nd, Keto Ninidze on July 16th, Mikhail Chonishvili on July 30th, Lapati Wine on August 13th, Baia Abuladze on September 11th, Simon Chkheidze on September 25th, and Wine Thieves on October 16th.
***Please note that Tbilisi Wine Club is also available for private groups according to demand and scheduling possibility. Please email us if you are interested in this activity as a private group.
Fee includes everything consumed on the walk. Some special features:
DISABLE
FAQ
How are you dealing with COVID-19 risk on your walks?
We have reinforced our commitment to safety with new guidelines to assure maximum safety of our guests on our walks in terms of social distancing and hygiene while maintaining the quality of the experience. For more details on our precautions, read here.
Our routes have been altered during this period of time to ensure the safety of our guests, guides and community. Our cancellation policy is extremely flexible to deal with changes in travel plans.
What is included in the fee?  In addition to your Culinary Backstreets guide, 4 pours are included in the price.
Why is the Culinary Backstreets tour more expensive than some other walking tours?  Our approach is different than most tour companies. Each of our culinary walks is the outcome of considerable research. We work with academics in the field and our own team of experienced professionals – both guides and local journalists. Our ongoing publishing of articles, from restaurant reviews to features about the intersection of food and culture, constantly feeds new material into the culinary walks, so they evolve and constantly improve. Though costly, we believe that this is how to create the quality experiences we strive for. We practice honest tourism  and would never accept a free lunch or any sort of commission. On the contrary, we are proud to know that the money spent during the culinary walk goes to support businesses that we believe in, helping to preserve the social and cultural fabric of the cities we love so dearly.
How does the payment process work?  Once you have made a reservation, we require the full fee to be paid in order to complete the online booking. Our online booking system uses Stripe to process secure payments.
Are your walks suitable for people with food allergies?  This can vary based on a number of factors, including the food item in question. Please email us at walks@culinarybackstreets.com to discuss your situation before booking. In general, many Georgian dishes contain nuts, so a participant with a nut allergy might need to skip a few of the stops on our walk.