Market Watch: Feasting on the Building Blocks of Mexican Cooking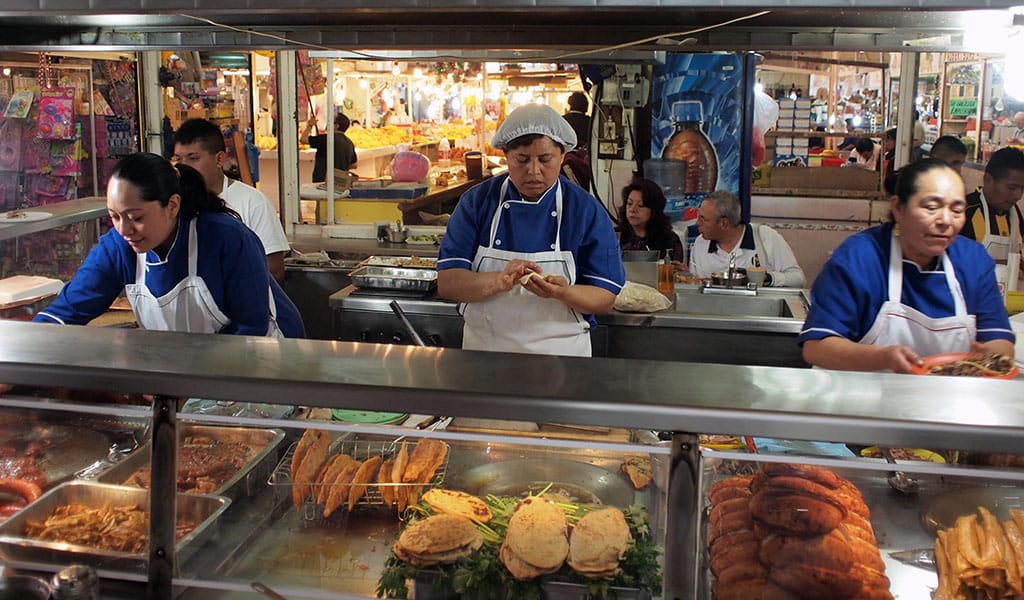 Quick bite: On this walk through the market, we'll meet its vendors and food makers, learning about how the market works and the important role it plays in Mexico City's daily life. 
The best way to understand Mexico is through its markets. These bustling and colorful places are where the country's soul – culinary and otherwise – truly resides. And, in our opinion, there are no two better places through which to do this soul searching then in the streets surrounding Mexico City's Merced Market and inside the colorful Mercado de Jamaica.
La Merced is Mexico City's largest market, so large that it spills out into the streets of the historic neighborhood surrounding it. Locals come to this bustling neighborhood for everything from handmade chorizo and unusual tropical fruits to candies with which to fill up birthday piñatas. Not far away is the more relaxed Mercado de Jamaica (the name means "hibiscus"), one of Mexico City's oldest markets, which is also the city's main wholesale flower market, a riotously colorful place where vendors sell sunflowers, Calla lilies, tulips, gardenias and, around the time of the Day of the Dead celebrations, bright orange marigolds to deep red terciopelos. Beyond produce, candy and flowers, these market districts are also two of Mexico City's top food destinations, home to a dizzying mix of street food sellers and small specialty restaurants. Located in the southeast edge of what was the Aztec capital city in pre-Colonial times, these markets are still outside of Mexico City's main tourist zone, keeping them very much a true locals' place.
The best way to understand Mexico is through its markets. These bustling and colorful places are where the country's soul – culinary and otherwise – truly resides.
On this walk through Mercado de Jamaica and the neighborhood surrounding Merced market, we'll meet local vendors and food makers, learning about how these market districts work and the important role they play in Mexico City daily life. Inside Jamaica market, we'll visit some of the literally hundreds of stalls selling an even larger variety of good (there are more than 5,000 different types of flowers coming from eight different Mexican states on offer in the Jamaica market). We'll also explore the market's other sections, dedicated to fruits and vegetables, kitchen utensils, piñatas and party favors, learning about the different ingredients that are the building blocks of Mexico's culture and its inimitable cuisine.
Our main focus, of course, will be these market districts' food. We'll start in the Merced neighborhood at small grocery and restaurant run by a family from Oaxaca to get a taste of that region's unique cuisine. From there we'll work out way towards the Merced market, stopping along the way at a classic coffee spot and at a taqueria whose specialty is tacos de canasta, a Mexico City street food classic. From there will continue to Jamaica – our favorite Mexico City indoor market – where, among other stops, we'll get a taste of deeply Mexican candies and snacks and also sit down with market workers at a family-run stand for the best green chile chorizo tacos in the city. Depending on the day, we'll also try handmade tamales, blue corn quesadillas, street corn and other market favorites.
We'll end our day by sitting down for an edible celebration of market life: lunch at an old-school spot that specializes in huaraches, paddle-shaped masa (corn dough) cakes topped with an almost endless variety of locally-procured ingredients.
Fee includes everything consumed on the walk. Some special features:
| | | | |
| --- | --- | --- | --- |
| | Some, but not all, stops can be altered for vegetarians | | Children welcome |
| | Not stroller – friendly | | Includes market visits, can be crowded at times |
| | Pork is served, but can be substituted | | Can accommodate a pescatarian diet |
| | Cannot accommodate a vegan diet | | Can accommodate a gluten-free diet |
FAQ
How are you dealing with COVID-19 risk on your walks?
We have reinforced our commitment to safety with new guidelines to assure maximum safety of our guests on our walks in terms of social distancing and hygiene while maintaining the quality of the experience. For more details on our precautions, read here.
Our routes have been altered during this period of time to ensure the safety of our guests, guides and community. Our cancellation policy is extremely flexible to deal with changes in travel plans.
What are the current travel restrictions or requirements in Mexico?
You can read the full travel regulations by location for Mexico here. There are currently no travel restrictions in Mexico. Our cancellation policy is extremely flexible to deal with changes in travel plans. Please contact us for specific questions on travel restrictions.
Am I going to get sick from eating Mexican street food or tacos?
Mild discomfort is common for people who aren't used to eating Mexican spices or produce. However, all the food stops on each of our tours have been personally tested by our founders, as well as each of our guides. We stand by their quality and cleanliness.
Can you pick me up from my hotel?  How will I return once the tour is over?
Our tour prices don't include transportation. If you book a tour, you're responsible for arriving to the pre-arranged meeting spot on your own. Most Mexico City hotels provide taxi services for guests, and it's generally easy and convenient to use them.  If you chose to have a private walk, the guide may be able to meet you at the hotel.
Once the tour is over, we will help you get an authorized, safe taxi to your hotel, or provide directions on public transportation, if you're interested in that.
Is English spoken?
English is definitely spoken! Our guides are either American and bilingual in Spanish, or they're Mexicans who speak fluent English. We will also happily do a tour in Spanish if you prefer.
Can vegetarians or vegans take this tour?
Vegetarians, pescaterians definitely. Vegans will have a difficult time in Mexico City, but we will do our best to accommodate. Our tours also work for anyone with cheese, nut and wheat allergies. Please let us what know your dietary restrictions in advance.
What should I wear?
Comfortable, closed-toed shoes (no flip-flops please), pants, and shirts in layers — it can be cooler in the morning and warmer in the afternoon. Please bring an umbrella if you're traveling in Mexico City's rainy season, from June-September.
How much walking is involved?
Quite a bit. We want you to experience the most amount of food and culture possible, and while we are not actively walking the entire time, you will be required to walk from stop to stop. The entire walk is about 2.5km on fairly flat terrain but the sidewalks can be challenging.  Some of the street stands we visit also do not have seating, so you will eat standing up.
How much food will I get to try?
This is really up to you. We generally taste around six items on each tour, but the price includes as much food as you're open to trying. We offer a suggested portion size at each stop and you can take our recommendation if you'd like. Our goal is to have you end the tour pleasantly stuffed, not so full you can barely walk. That said, everyone's appetite is different and we welcome all varieties!
What if it rains?  Our tours are conducted rain or shine.
Can I bring my children on this tour?
Sure!  Children under 6 are free of charge, but Mexico City is not very stroller friendly, so you should either bring a baby carrier or have a kid ready to walk.  Children 7-12 are 50% off.  Teenagers 13 and often eat more than their parents and pay full price.
What is your cancellation policy?
The entire reservation can be cancelled with 100% refunded minus credit card processing fees if cancelled more than 1 week in advance.  Cancellations of more than 3 days, are refundable at 50% and less than 72 hours are not refundable.
What should I bring?
We strongly recommend leaving passports, credit cards, jewelry and professional cameras at home and carrying only a small amount of cash with you as we will be paying for everything you consume. We also strongly recommend not wearing open-toed shoes, shorts or jewelry.