Lisbon On-Line Cooking Class
CB Cooks (Online): Lisbon – Petiscos menu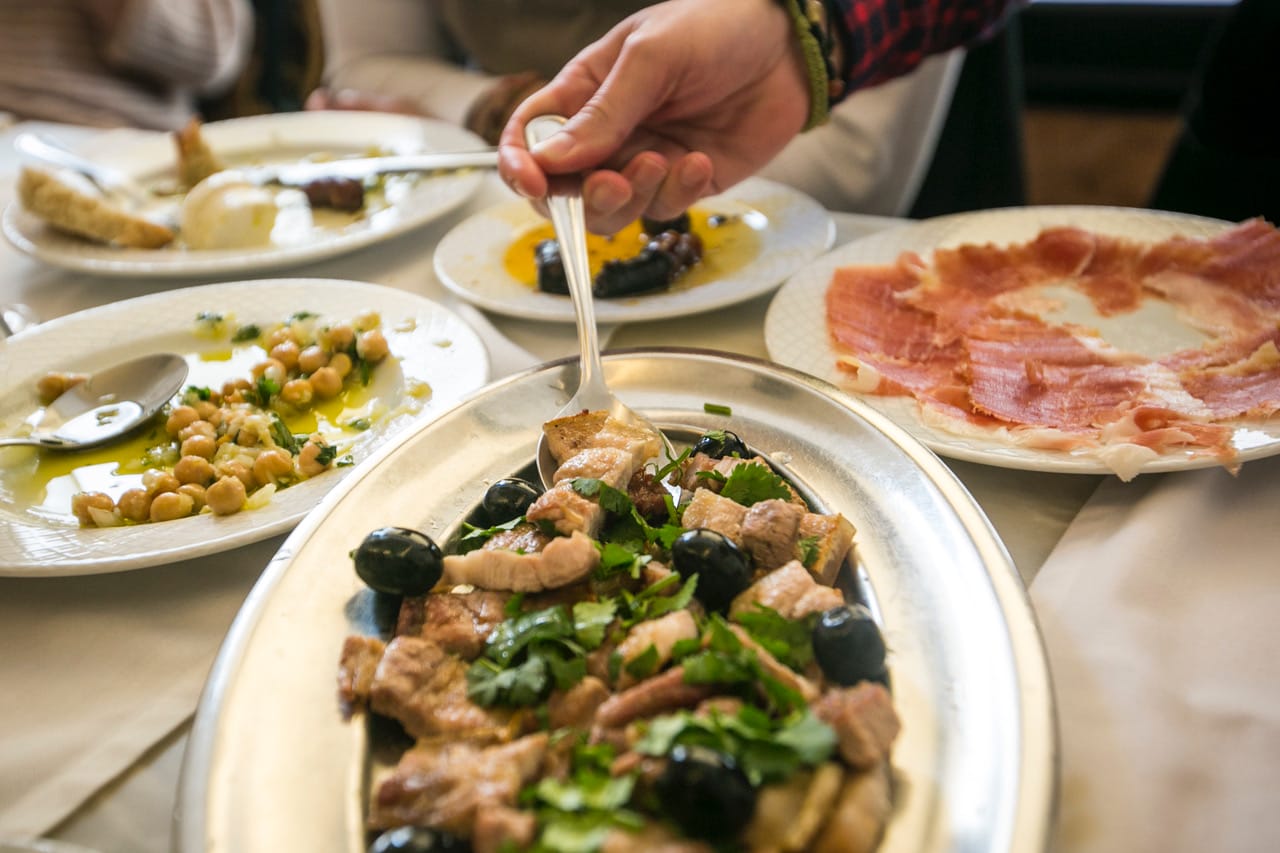 Quick Bite: Join our small group online cooking class from Lisbon to learn how to make petiscos, the flavorful small Portuguese dishes that we love to eat at tascas.
We like to think of the kitchen as a kind of teleportation device, one that can magically transport you to a dramatically different location through the act of cooking. Mix together the right ingredients and, poof, you might suddenly find yourself in Istanbul. That's the idea behind our online cooking classes – these aren't simply lessons, they are journeys in their own right.
Going deeper, these lessons – led by members of the Culinary Backstreets team, all with professional cooking experience and deep relationships with the chefs and cooks whose dishes we feature – are also an exploration of some of our most beloved neighborhood kitchens, with menus inspired by their best recipes. We've spent years in the backstreets, as part of our tours and on our own, researching and digging into the very best dishes of our cities' kitchens and getting to know the people who uphold their culinary traditions. Along the way, we've managed to collect some of the secrets of their iconic dishes, which we are very happy to share through our online classes.
For this online cooking class from Lisbon, we've taken inspiration from some of our favorite local tascas, the city's quintessential neighborhood lunch spots, and their deep devotion to the art of making petiscos, the flavorful small dishes that get the meal going in these homey restaurants. In this two-hour small-group experience, you'll be led from start to finish through the steps of preparing three classic petiscos: pica-pau, a piquant sautéed beef dish; meia-desfeita de grão, a comforting and flavorful mix of cod and chickpeas; and cavalas com molho verde, an appetizer made from tinned mackerel filets and oven-roasted potatoes smothered in a vibrant green herb sauce that will change your opinion of what can be done with fish from a can. To complete the menu, you also learn how to make a home-style Portuguese cheesecake.
When your lesson is done, you'll have your own small tasca meal ready to eat – and prepare again. Sit back, raise a glass of vinho verde (find some ahead of your class to complete the experience) and imagine yourself back in Lisbon. It won't be hard to do.
Fee includes everything consumed on the walk. Some special features:
| | | | |
| --- | --- | --- | --- |
| | In the comfort of your own kitchen. | | Hands – on activity. |
| | Ingredient and prep list sent in advance. | | Creates a full meal for your family or guests. |
| | Children Welcome. | | Pescatarian friendly |
FAQ
What is included in the fee?  A full ingredient and prep list will be sent ahead of time.  The fee is for a hands-on cooking instruction per screen, not per person.
How does the payment process work?  Once you have selected an available cooking class and date, you will be able to pay the fee by credit card.  Our credit card processor, Stripe, is certified to PCI Service Provider Level 1, the most stringent level of certification. None of your sensitive data ever hits Culinary Backstreets servers. It is all captured, processed, and housed on Stripes servers.  If you are registering for an activity that requires approval, your reservation request will need to be approved by an administrator before it is finalized. Once it is approved, you will receive an email directing you to pay your deposit and complete your booking.
Are your classes public or private? How many people are on them?  Our classes are offered for  2-10 screens. The fee is per screen, not per person. If you would like to do a private activity for yourself or a zoom party, we may be able to arrange one. Please contact us at walks@culinarybackstreets.com for more information.
Is this activity suitable for people with food allergies?  This can vary based on a number of factors, including the food item in question. Please email us at walks@culinarybackstreets.com to discuss your situation before booking.
Are your classes suitable for pescatarians?  This cooking class activity is very suitable for pescatarians.
Is the cooking class suitable for children?  We have had children of all ages on our in-person cooking classes and they seem to enjoy it immensely.